Though arch-conservative provocateur Andrew Breitbart may have passed away suddenly this week at 43, some enterprising spammer has ensured his Twitter feed has an afterlife. At 3:32 on Saturday, those who follow the late pundit were surprised to find the following pop up in their Twitter timelines:
Fastest and most efficient way to remove toxins & lose weightworldnews20.com

— AndrewBreitbart (@AndrewBreitbart) March 3, 2012
The tweet was definitely posted on the real Breitbart Twitter account, complete with his Twitter-issued "verified" button.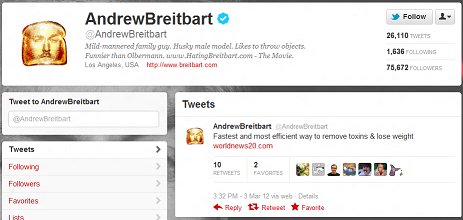 Reactions ran the gamut, from perplexed to outraged:
Umm @AndrewBreitbart just tweeted? Hacked! Disturbing!!!!

— Gina (@gxmolin) March 3, 2012
RT @SissyWillis RT @jtLOL: Please be advised that a rotten spammer has broken into @AndrewBreitbart's Twitter account.

— Love Of Freedom (@Love0fFreedom) March 3, 2012
There were reports on social media that Breitbart's Facebook page was also hacked but if so it was quickly taken care of. The offending tweet was removed within a half-hour of posting Saturday afternoon.
Spammers have always been an issue on Twitter in particular, but this may mark the first time a spammer/hacker unwittingly drew so much attention to his or her product.
A check of domain registration information on the spam link tweeted via Breitbart's account revealed it was registered to a Russian address. This will likely not curb the appetite some have shown in the days since Breitbart's passing for imagining there is some kind of conspiracy surrounding his death.