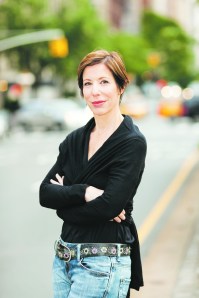 Rebecca Land Soodak has to take certain precautions when seeking a nanny to look after her four children. For one, she has to be careful not to include her name or email address in her Craigslist posting.
"I don't want them to Google me until we've talked on the phone," Ms. Land Soodak told The Observer on a recent Wednesday morning at her home on East 87th Street. The kids were at school, and the penthouse duplex, its walls lined with her own paintings—colorful, Elizabeth Peyton-style portraits of children with dreamy gazes—was quiet.
"And they always Google," she said. 
Ms. Land Soodak's debut novel, Henny on the Couch, was published by Grand Central this week, but diligent applicants are also likely to come across the Upper East Side mom's brief brush with notoriety. In 2008, her domestic life became fodder for judgmental parenting forum—dwellers and snarky downtown news bloggers, when her brash Craigslist want ad for a nanny went viral.
"I work from home, so you get the pleasure of being hounded by me all day long," the post warned, "And you get to pretend to like me, because I am deeply sensitive. (But well dressed and a know-it-all, a winning combination I assure you.)"
The New York Times wrote about the ad, feigning a sociological interest in Ms. Land Soodak's resonant critique of the perfectionist parenting set. (Not exactly how she came off in their piece.) Morning Joe and Dr. Phil invited her on. Daily Intel, Jezebel, YouBeMom and their commenters tore her to shreds. CNN called her husband and asked if she was a loving person.
"We still get pitched to do reality TV shows," Ms. Land Soodak said. With her wiry frame and punky cropped hair, she looked more Bravo than TLC to us.
"I used to think that if people heard my perspective they'd agree with me," Ms. Land Soodak said of her time in the media blast furnace. "That's really silly, now. Not everyone thinks it's O.K. to say 'My kids are a pain in the ass.'"
Which is exactly how her want ad, dashed off one exasperated day in August, began. As she typed, her 9-year-old son was swinging her 6-year-old daughter around by the arm. She had enjoyed the precious angels' uninterrupted company all summer and couldn't be bothered to spell check. She was exhausted and angry.
The listing touched a bundle of nerves. It was unapologetic about wealth ("I do not want to hide my occasional Bergdorf shopping bag"), religious about methylphenidate ("if you are judgmental about Ritalin for ADHD, or think such things are caused by too much sugar, again, deal break city"), and ended on a strivery note.
"Okay, if you're still reading this ad," she wrote, "it means I am a halfway decent writer and maybe I really will get that book deal I'm yearning for."
But Ms. Land Soodak had already had some luck as a writer. She sold a few essays to Salon by cold-emailing editors. She found literary agents by visiting the websites of authors she liked and firing off emails to their agents. No one bought her manuscript, but an intern had fished her sample—essays and a short story—out of a slush pile and asked to see more.
After the Craigslist post went viral, agents were clamoring for a mommy's take on The Nanny Diaries. In September 2008, Ms. Land Soodak went to Borders and bought a couple of books on fiction writing. She wrote the novel in the lobby of her gym, in the waiting room outside the kids' violin lessons, and in the fourth-floor bathroom at Bloomingdale's, where there are couches and an outlet and she didn't have to buy anything.
"It got expensive having coffee all the time," she said. 
When she completed the manuscript that would become Henny on the Couch in 2009, she gave it to Elizabeth Kaplan, an agent who had expressed interest in her before she became an Internet phenomenon. It wasn't the mommy diaries, but the Craigslist ad was all over it. In the novel, Kara, also an Upper East Side mother, juggles her daughter's learning disabilities, her nanny's condescension and her husband's ambition, all while trying to preserve enough of herself to rediscover some long-suppressed artistic drive.
"It's socially acceptable to deride wealthy white women, particularly wealthy white mothers," she explained. "I think that's wrong."
Kara's story finds some emotional ballast in chapters set during her turbulent childhood and college days at Columbia, when she falls in with a clique of Basquiat acolytes but finds herself artistically intimidated by her boyfriend, Oliver, who goes on to become a famous painter.
"I was really interested in the idea of what it takes to declare oneself an artist," she said.
For Kara, it took validation from friends of her adulthood to overcome the insecurities planted in her childhood. For Ms. Land Soodak, it took a diagnosis.
A trained psychotherapist, she moved to New York City from Albany to get her master's at NYU. After doing postgraduate work at the Ackerman Institute, she supervised NYU Child Studies Center residents in family therapy from behind the two-way glass.
When she and her husband, Mitchell Soodak (who owns Union Square Wines), moved out of their East Village digs and into the duplex uptown, she opened a private practice downstairs.
When ADHD was diagnosed in her son at age 5, she read up on associated disorders and learned that attention-deficit issues are often difficult to diagnose in girls. If they're smart and obedient, they can get by for a long time. ADD was diagnosed in Ms. Land Soodak soon after.
She began taking medication on Dec. 22, and on Christmas day, she picked up a paintbrush. She had no formal training, but could remember her frustration in high school art class. "With the Ritalin, it was different," she said. "I was making decisions instead of just doing something that felt good. That was a dramatic time for me."
Although she cared about her patients, she began to think psychotherapy wasn't "where her energy should be."
"There are also only so many hours in a day. I would put my girls to bed and go down and see patients, and it was still rewarding but what I really wanted to do was paint."
She quit her therapy practice, later converting a downstairs terrace into her studio.
"I'm really in a better place when I can be truthful, imperfect and human," she said.
Ms. Land Soodak is represented by Gallery 71, but she hasn't painted much since Internet commenters piled on her paintings post-Craigslist ad. She has devoted herself to writing full-time.
Internet infamy hasn't made it any harder for Ms. Land Soodak to find a nanny. After the initial conversation, she makes sure to give her full name, inviting potential hires to look her up. Then, the post serves as a talking point and a litmus test.
"Usually people say they thought it was funny."
The free studio apartment in the Soodak building doesn't hurt either.
For Ms. Land Soodak, outsourcing the minutiae of modern childrearing is a privilege with feminist implications, a way to stake out not just a room of one's own (like the Virginia Woolf essay young Kara studies in the novel), but also the mental space to make art and, in fallow times, find inspiration in a gallery show, or a long, angsty walk.
She's hosting a panel on creativity and motherhood at the Strand in May, featuring Orange Is the New Black author Piper Kerman and Jillian Lauren, the writer, monologist and wife of Weezer bassist Scott Shriner.
"To be an artist, you have to say no," she explained. "To everything. To PTA, to birthday parties, to knowing what's going on."
She doesn't volunteer at her kids' schools, although she thanks the parents who do in the novel's acknowledgments. Some parents know when their kids have tests or deadlines—not Ms. Land Soodak.
"Oh, shit," she said, giggling, as she remembered a recent episode. Her son told her he needed a check for a swim team event about which she knew nothing. She searched her email, "swimteam," "check," and pulled up an email that said the $30 payment was due Wednesday. Her son insisted it was more than that, and on Monday.
"I'm like, 'It says right here, $30, Wednesday night,'" she said. "I come home and he's like 'Mom, you wrote the check to last year's person.'
"That shit happens all the time around here."
kstoeffel@observer.com