On the occasion of Tim Tebow's arrival to New York, we are reminded of Matthew 5:29: "If your right eye causes you to sin, gouge it out and throw it away. It is better for you to lose one part of your body than for your whole body to be thrown into hell." Judging by the early reactions of New York sports fans to the news that Tim Tebow is headed to the New York Jets, he may in fact have to gouge his eyes out.
Quite a few New York fans we not particularly welcoming of Mr. Tebow: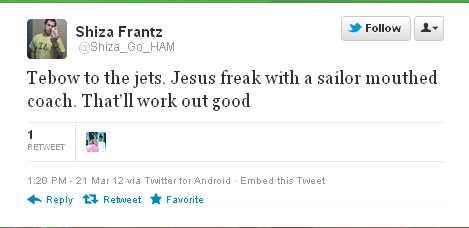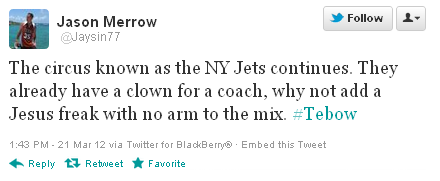 HOT 97 radio DJ Funkmaster Flex also did not approve:

Callers into WFAN's local show weren't too excited about this one, notes Sports Illustrated web editor Jimmy Traina (who, for what it's worth, has other gods before Tebow):
Baohaus chef Eddie Huang wondered if we, as a city, haven't gone slightly soft:

[MORE: STEINBRENNER SYNDROME, THE DISEASE OF NEW YORK CITY SPORTS FANS]
New York Times Arts writer Dave Itzkoff wondered how the Jesus Christ Superstar premiere on Broadway will be altered by these events: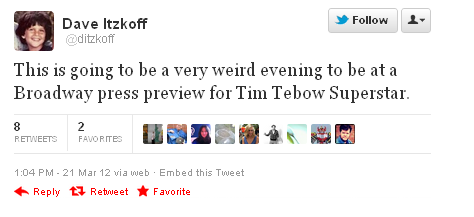 The NYC Nightlife Twitter wondered how Tebow will manage to hit the town in such a distinct den of sin:
But for what it's worth, Fake Rex Ryan registered his approval:
And it's still only March. Let Timsanity reign supreme.
fkamer@observer.com | @weareyourfek