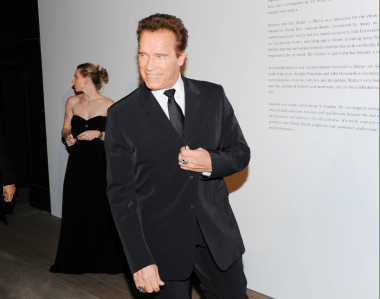 Used to the more snug confines of downtown boîtes, The Observer approached the hulking Park Avenue Armory with trepidation last Wednesday.
We were there for what turned out to be a very manly party celebrating the birthday of a watch: the Audemars Piguet Royal Oak (starting price $10,500) was 40 years old, and some real guys were there to make sure the timepiece did not feel slighted on the momentous occasion.
Now, the nature of time is a subject we contemplate often—particularly as the sun creeps up over the ragged eastern edge of the city's skyline—but never have we been confronted with it quite so literally.
Upon entry, we noticed that everyone, truly everyone, was wearing a conspicuous timepiece. And while they weren't actually looking at the time, the crowd gawked at their watches often enough to give the impression of a room full of Mad Hatters: Were we late, late for the very important next party?
But no, it was soon clear that this was the place.
We first ran across the Cheshire grinning ex-pro running back Tiki Barber, whose gleaming pate caught our eye. With his blonde-bombshell companion, Traci Johnson, in tow, he smiled through the crowd, an umpteen-thousand-dollar hunk of Swiss machinery toggled to his wrist.
We asked the retiree about the recent NFL scandal in which players for the New Orleans Saints were offered bonuses for injuring opposing players.
"Tiki, do you reckon you could afford that watch with some of the bounties that used to be placed on your head?" we asked.
"Oh, man, I should certainly hope so," he answered gamely.
We spied über-producer and Alicia Keys soulmate Swizz Beatz, wearing what we assumed was a minor Transformers character on his wrist.
What had he been up to? we asked.
"I've been up to some fun stuff lately man," came the response.
Sounds fun lately, Mr. Beatz, really.
(Meanwhile, hockey player, ex-Vogue intern and LGBT activist Sean Avery, whom we later saw inside, slipped past us in much the same stealthy way he slipped out of the NHL.)