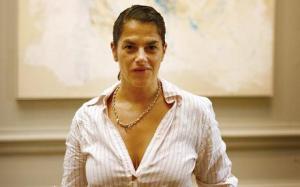 Artist Tracey Emin will head to the small city of Margate, England, her hometown, for her first exhibition there ever.
The show will be at Turner Contemporary. The exhibition is called "She Lay Down Deep Beneath the Sea." It will "explore the themes of love, sex and romanticism in Emin's oeuvre," according to a press release, and will include new works ranging from drawings to sculptures to tapestries.
In a statement, Ms. Emin said, "I still can't really believe that I'm showing in Margate. Even in my wildest dreams I could never believe there would be a gallery like Turner Contemporary there. So on one level I'm really chuffed and excited but on another I am as nervous as hell."
"She Lay Down Deep Beneath the Sea" opens to the public on May 26.