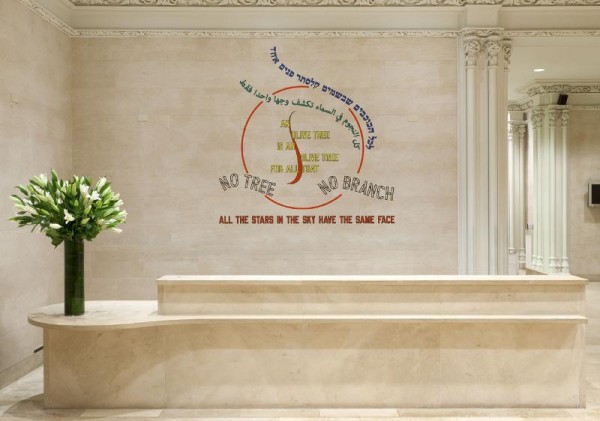 The Jewish Museum just sent over this little Friday delight, a new work by Lawrence Weiner that will hang in the entrance lobby of the museum through May 13. It's called NO TREE NO BRANCH (2011/12), and is based, according to the news release, on the Yiddish saying: "All the stars in the sky have the same face." Mr. Weiner spelled it out in Arabic, English and Hebrew, and broke it into pieces. Here's an explanation from the release:
"[T]he three languages… transform an originally isolationist "them/us" adage into an inclusive, non-hierarchical statement outlining one of the foremost precepts of peace. The sayings are arranged to break a circle, along with the words, NO TREE and NO BRANCH. Another text, in the center of the broken circle, reads AN OLIVE TREE IS AN OLIVE TREE FOR ALL THAT. These simple statement/icons can be seen as plain unambiguous shapes. Yet, arranged together, they also bear deep symbolic meaning – the olive branch of peace, the tree of life, and the representation of movement with curvilinear lines to express simultaneity.
It's always a nice surprise to see Mr. Weiner's text in a new language. He's worked in quite a few tongues at this point! Here is a piece in Icelandic (our favorite), one in French, one in Spanish, two more in Arabic and one in Mandarin Chinese.