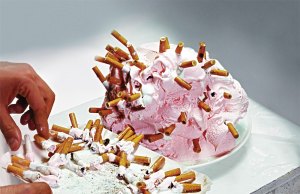 Over at Vice, "retired" artist Maurizio Cattelan and photographer Pierpaolo Ferrari have collaborated on a photo project. It's an offshoot of the pair's Toilet Paper magazine, which they have released biannually for several years.
As Vice mentions on their web site:
"A while back we reached out to them, asking whether they would be interested in doing a shoot for VICE. They said yes, we peed our pants and a few months later they sent back seven images, one of which depicts a very realistic fake penis and graces the cover of this issue."
That cover, for Vice's "Holy Trinity Issue," is an image of a plunger, a stapler and a large dildo. (Apparently, it's a dildo kind of day over here at GalleristNY.) They were forced to cover up the dildo with a sticker that reads "DILDO" because of the "United States Postal Service's disgusting and ambiguous censorship policy," according to the magazine.
The photos are lewd and wonderful. Our favorite is the pile of ice cream with dozens of cigarette butts sticking out of it (pictured to the left), which encapsulates Mr. Cattelan's graphic sense of humor, but all of them are great. Have a look here.