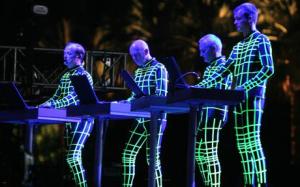 If you're like us, you probably spent about an hour staring at a computer screen hoping to buy tickets to see Kraftwerk's Trans Europe Express, part of MoMA's eight-night retrospective in which the electronic pioneers will play all of their albums in chronological order. If you're also like us, you failed at this seemingly simple task.
Well, you're in luck! Some of you, anyway.
Volkswagen, who is sponsoring the event, is giving away 50 pairs of free tickets at this web site. There's also some weird secondary contest where you can make a GIF of yourself doing something that could be featured in the "VW Online GIF HUB," but all we really care about are the Kraftwerk tickets (though apparently, the GIF counts as a second entry in the ticket contest, so it increases your chances; so: GIF away, dear reader.)
Volkswagen also has 500 pairs of tickets to view an exhibition of Kraftwerk ephemera at MoMA PS1.
Honestly, we're not sure why we're telling you about this because we want those tickets all to ourselves.