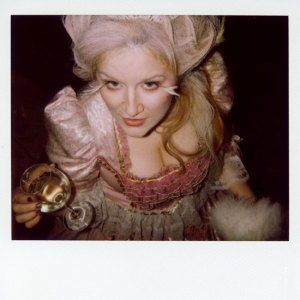 The scores of dealers exhibiting in the inaugural Frieze Art Fair in New York in May will be joined in the city by at least one surprise guest: Pittsburgh's Andy Warhol Museum, which will open a temporary exhibition, funded by Hugo Boss, in West Chelsea, where it will present Polaroids by Warhol and a variety of works by New York photographer Jeremy Kost.
"I'm looking at it as a mini survey," Mr. Kost told us by phone as he left the opening of the Independent Art Fair last week. The exhibition is being organized by Eric Shiner, the director of the Warhol Museum since the middle of last year, and will include photographs of drag queens, video works and a new series of silkscreen paintings, all by Mr. Kost, as well as the Warhol Polaroids.
Hugo Boss, known in the art world for its Guggenheim Museum-administrated art prize, and the organizers plan to occupy a space at 551 West 21st Street.
When the Warhol Museum was first founded in 1989, some grumbled about the fact that it was planned for the Pop artist's birthplace, instead of the city that embraced him and made him a star. "We didn't have the money to buy anything at New York real estate prices," Charles Wright, the director of the Dia Art Foundation, which helped finance the museum, told The New York Times, when asked about the move at the time. "Nor could we find a New York institution willing to help." (The museum was also funded by Pittsburgh's Carnegie Institute and the Warhol Foundation.) More than two decades later, it is answering that criticism, if only for a brief moment.
"Why not do a satellite in New York, similar to the Guggenheim?" Mr. Kost asked, referring to the Guggenheim's international museum network. "It will be great for New York, and hopefully what we can do is create a semi-institutional feel in this satellite." While there is no fixed schedule for the satellite's show, it is definitively being conceived as a temporary project, set to run from May 4 for at least four weeks.
But now that Rob Pruitt's charming silver Warhol sculpture has gotten an extended stay at Union Square, where it was set up by the Public Art Fund, here's hoping someone can make the museum's encampment a permanent outpost.
Update, 1 p.m.: This article has been updated to reflect that the museum describes the project as a temporary exhibition, not a temporary satellite location.