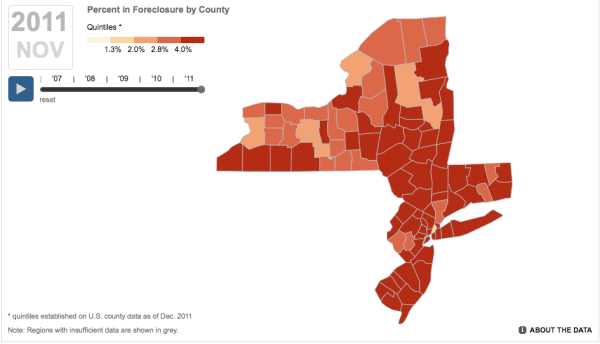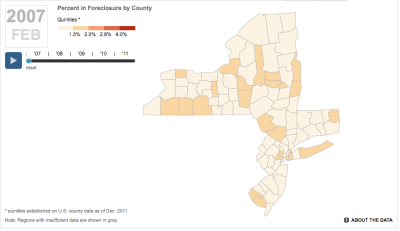 Want to experience the housing market crash in less than a minute? You're in luck! The New York Fed has released an interactive map that displays foreclosures by county in the tri-state area between Jan. 2007 and Dec. 2011. (Warning: we do not recommend the map to anyone with an underwater mortgage or high blood pressure).
The map animation shows the New York's counties, as well as New Jersey's and Connecticut's, changing from a calming light peach (one percent of properties in foreclosure) to panicky dark red as the number of foreclosures climbs (more than four percent!). Watching it made the Observer's palms sweat.
The map reveals that Manhattan was the only place in the state with less than 2 percent of foreclosures (1.3 percent) in Dec. 2011, although considering that before the crisis, it sat comfortably at .1 percent, that number's still kind of scary. The outerboroughs fared much worse, with 8.3 percent in the Bronx, 8.1 percent in Brooklyn and 7 percent in Queens.
The map is frightening, but as a small silver lining, NYU's Furman Center for Real Estate and Urban Policy released a report this week that found foreclosure starts were down in most of the city—33 percent fewer foreclosure notices in the fourth quarter of 2011 compared to the same quarter in 2010
For a more calming experience, you can also watch maps of delinquent mortgages (60 and 90+ days delinquent) in purple and blue.
The map will be updated on a regular basis, according to the Fed.
"We are confident this tool will provide relevant and timely analysis to help inform the public, policy makers, and community leaders about these ongoing conditions," said Kausar Hamdani, senior vice president of regional and community outreach, in a release.
kvelsey@observer.com