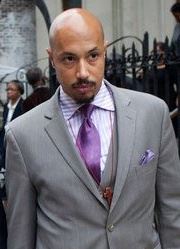 Kirsten John Foy, an aide to Public Advocate Bill de Blasio and president-elect of the Brooklyn chapter of Al Sharpton's National Action Network is holding weekly vigils to push for prosecutors to take action in the death of African-American teenager Ramarley Graham, who was shot by police at his home in the Bronx last month. Starting tonight, Mr. Foy, representatives from the National Action Network, and Mr. Graham's parents will stand in front of the 47th Precinct every Thursday evening from 6 to 8 p.m. Mr. Foy says they won't stop until the district attorney or the U.S. Attorney takes up the case.
"We're hoping that the district attorney does a complete, thorough investigation and concludes that these officers committed a crime, as most of the community now believes," Mr. Foy told The Politicker. "Worst case he decides theres no value in the prosecution and then the U.S. Attorney decides to look into this, because what went down here was egregious and criminal."
Mr. Graham, 18, was shot in his bathroom February 2 after running from a group of police officers who tried to stop him after becoming suspicious of his movements. The officers chased him to his home and broke down the door before shooting him in the chest. A bag of marijuana was found by his body.
"Police broke in to this young man's home where he lived with his mom, his grandmom and his little brother. They broke in and they shot him dead in his back for no reason other than they were illegally on the premises in the first place," Mr. Foy said. "So, we have breaking and entering, and we have a homicide here. They shot this man for no reason in his home, in his bathroom in front of his grandmother and six-year-old brother."
Mr. Foy, who is a reverend at Abiding Love Ministries in Brooklyn, delivered the eulogy at Mr. Graham's funeral.  He described the experience as a wake up call about "the relationship between the Police Department and the community." In addition to Mr. Graham's death, the NYPD has faced a slew of controversies in recent months including public outcry over the controversial stop-and-frisk policy reaching record levels and the department's widespread program of Muslim surveillance. Mr. Foy said he believes the city is "approaching a precipice of dire consequences if we aren't able to arrest the trajectory of our decline in our relationship with the police." If things don't improve, Mr. Foy believes police officers may also be the victims of violence:
"What we've seen are a culmination of grievances and a culmination of injustices that have now accumulated on the back of this NYPD, and the question is, what actions, what event, what incident is going to be the final straw? We're hoping that it won't take a final straw. We're hoping that the NYPD from the ground up will recognize the importance and the value of a strong, positive cooperative relationship and engagement with the communities that they serve as an alternative to all out conflict and an all out cold war where the community suffers and the police suffer as well. That's what we're starting to see, the cold war getting hot. You've seen more officers get shot in recent months than in a long time and that's unfortunate."
Mr. Foy believes stop-and-frisk and issues of police brutality puts officers at risk by
"Bad policy is what's ultimately jeopardizing these officers. These officers are enforcing discriminatory policies, the communities are feeling under siege, they're feeling disrespected," Mr. Foy said. "They're feeling like there's a wholesale disregard for their human rights and these frustrations are festering. You see a criminal element that shows no regard for human life now saying we're going to extend that disregard for the police and what have we got to lose? Now, the community, all elements, those illegal elements and those legal elements, now saying enough is enough."
While Mr. Foy doesn't think criminals who are violent towards the police are directly responding to stop-and-frisk, he believes the department's policies contribute to treacherous climate.
"Oppression is responded to in various manners by various different people. Some people respond to it immediately, some people react and respond to it gradually. So, what we're really trying to get at here is not just a political agenda, but the psychology of this kind of dehumanizing policy," Mr. Foy said. "I'm not saying that cops are getting shot out of a direct protest of stop-and-frisk. What we're saying is, that policy creates a pathology in both the implementer of that policy and the target. It creates a pathology that works against the concept of cooperative engagement. We believe that it encourages a disdain for both authority as well as civility."
Though several politicians have come out against stop-and-frisk and attempted to address other controversies surrounding the NYPD, Mr. Foy believes progress in this area is not moving fast enough. Hoever, he hopes next year's mayoral election can help move things forward.
"I do think we are in very, very slow motion and I'm hopeful, but I'm not enthusiastic. You know, we do have a mayoral election a year-and-a-half away," Mr. Foy said. "I said this at Ramarley's funeral, if the mayoral election is not about police accountability, we will see more and more young men put into the ground at the hands of our police officers and we're going to see more police officers killed by the criminal element. We're going to se emore bloodshed."