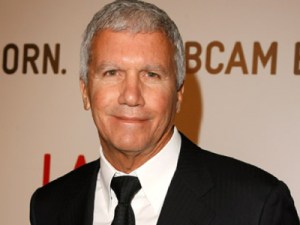 One of the first things you learn in any introductory journalism class—nestled somewhere between how to write a nut graf and why you shouldn't use a pen when you're reporting outside in the winter (the ink freezes)—is never to include in an article details about the meal you ate during an interview.  This is why we're so tickled by the Financial Times' ongoing "Lunch with the FT" series. Here, the writer gets what sounds like a very expensive lunch with a powerful person–including a number of important art dealers–and meticulously catalogues the food consumed, often using the interviewee's order choices as an extended metaphor for his or her personality and biography. Another thing, one that may or may not be particularly true of The Observer (we'll never tell), the FT always picks up the tab.
They might not pass journalism 101, but boy howdy are these things a hoot. Let's see what we've learned about our favorite art dealers from the kind of salad they eat.
Jay Jopling: The most recent "Lunch with the FT" was also the White Cube founder's first interview in 10 years. The writer—writing in the first person, naturally—took him to Zucca, "whose wide glass front, slick white plastic furnishings and open-plan kitchen shares White Cube's concept of accessible chic." "I [the writer] choose mozzarella and courgettes. For mains, [Jopling] orders pasta with broccoli, I opt for grilled wild sea bass. Despite a reputation for being able to drink his artists under the table at his lavish parties, Jopling declines wine." Classy! The following quote—well, we'll just reproduce it in its entirety (and retain the British spelling of everything):
The casarecce – long pasta spirals with purple sprouting broccoli, anchovies and pecorino – and my grilled sea bass, accompanied by cauliflower, are served: simple, succulent, tasty. Does globalisation detract from art's immediacy? I wonder.
Talk about a transition! Simple, succulent, tasty—like, say, a Damien Hirst spot painting, the kind that took the globe—get it? "globalisation?"—by storm at all 11 Gagosian galleries earlier this year? Is this an allusion to a secret rivalry between Mr Hirst's London dealer, Mr. Jopling, and his man in New York, Larry Gagosian? Why not? Also: at the end, Mr. Jopling tries to pick up the tab.
Larry Gagosian: Speaking of good ol' Gogo, the dealer met the FT down the road from his Davies Street gallery at C London. They order mineral water—the writer gets still and Mr. Gagosian gets sparkling—sparkling like the silver of his hair? Or the collective pristine shine of his 11 galleries across the world? Uh, sure!  "He asks for grilled swordfish–surely appropriate for a man known as the sharpest operator in the business." Man, this article is making our arms sore; such is the weight of these words! "He approaches the dish methodically, with minimal interest, and continues: 'I wasn't particularly ambitious at college, I had no career path whatsoever. I started from scratch so it always felt like progress.'" Surely it was his lack of ambition in college that led directly to his ambivalence about the food at this very meal. Mr. Gagosian doesn't "do coffee" and seems to have no problem having someone pay for his lunch.
Helly Nahmad: The head of his famous collecting family's London gallery sat down with the FT at Brasserie Lipp in Paris, not long after mounting a major exhibition of rare paintings from the Nahmad collection by Picasso, Matisse, Miró and others. Booze plays a pretty important role in this installment: "He asks what I will drink. Whatever you do, I say. 'But you might not like that!' he exclaims, requesting vodka and orange juice. I order a coupe de champagne, to celebrate his exhibition." Then Mr. Nahmad goes on an existential rant in the very restaurant where Hemingway used to get loaded:
"The overriding message of great artists is that they appreciate the hidden–that is, what's real," Nahmad opens. "They counter material reality. These glasses,"–he takes a couple from the table and slams them down again loudly–"these are invented, just an illusion. Brasserie Lipp," a wave of the hand spans busy tables and gliding waiters – "all this is meaningless. The reason I love what I do is that we are close to people and things made by people saying, 'I exist and this is how I feel.'"
He proceeds to cancel the vodka and orders champagne along with the two most expensive things on the menu: Foie gras (there's some kind of liver damage joke to make here) and sole meunière. "The sole, perfectly filleted, buttery, succulent, is served, with new potatoes. Nahmad ignores the vegetables and approaches the fish methodically, preoccupied again with his exhibition." A true existentialist's careful forking of a dead fish is certainly parallel with the curating of a thoughtful landmark art exhibition. You are, so we've heard, what you eat.