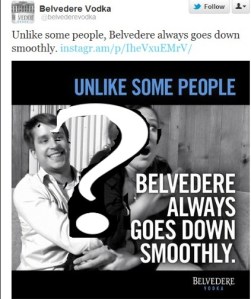 After Belvedere Vodka caught flack for a pretty scandalous Facebook and Twitter ad posted Friday morning, the company immediately went into damage control mode. First they took down the offending photo, which didn't help much in the magical age of screenshots and timestamps. Then they posted a SYWO (Sorry You Were Offended) non-apology on Twitter.
By Saturday, enough outlets had picked up on the PR disaster–which featured a man pulling down a woman onto his lap who looked like she was screaming, under the headline 'Unlike some people, Belvedere Vodka always goes down smooth– that Belvedere recanted its faux-pology and issued two real ones, including a statement from Charles Gibb, President of Belvedere, who wrote "It should never have happened. I am currently investigating the matter to determine how this happened and to be sure it never does so again. The content is contrary to our values and we deeply regret this lapse."
But as of earlier this morning, Belvedere reps still couldn't comment on "the ongoing investigation." So who is responsible for the ad. Our money was on some unthinking intern who was fired immediately after, but all signs point to Last Exit.
Last Exit is a New York/London based digital PR firm who have been working with Belvedere on its online campaigns and social media integration. The link to the branding that Last Exit has done for Belvedere now leads to an Access Denied message. When The Observer called Last Exit in regard to this matter, we were referred back to Belvedere's PR spokesperson. We were told (again) that the matter is still under investigation. We're sure we'll be updated as soon as Belvedere discovers the culprit.
In regards to how much money Belvedere will be donating to RAINN as penance, The New York Observer was sent this message from the PR firm handling the alcohol company:
"We're not going to go into specifics—just that it's a substantial amount."
At this point we just feel bad for the company handling Belvedere's in-house public relations team, whom we have developed an almost Stockholm Syndrome sympathy for after 72 hours of constant back-and-forth phone calls.