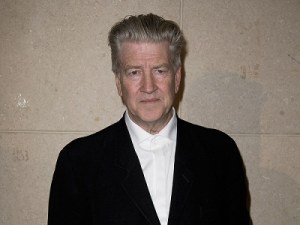 After surveying his new show of paintings and photos at the Tilton Gallery Thursday afternoon ("Aces, Connie," he told co-owner Connie Tilton, when she arrived) and making his way past the gallery workers in the back ("How you guys doing in here? You good?"), David Lynch stopped on the outdoor metal steps down to the patio, held up a hand and pointed to a pigeon sitting at the edge of the terrace. "There's a mother," he whispered. "Laying an egg."
"I like to come to New York for short times," said Mr. Lynch, who lives in Los Angeles. He puffed an American Spirit in a chair that he'd moved to the far end of the patio, so as not to disturb the pigeon. "It's too claustrophobic for me, but there are some things that just really thrill my soul in New York." Our restaurants? The theater? Not really, he said. It's more the abandoned factories. Smokestacks, that kind of thing.
"I think I would like to discover Queens," he said.
He doesn't have a regular coffee place here, though it's not as if he's unfamiliar with the town. He used to come here all the time when he dated Isabella Rossellini, and his mother was raised in Park Slope, which was close enough to small-town America to suit Mr. Lynch, until it all went bad in the 1970s, which he calls one of the worst decades ever ("Hair and leather," he shuddered). He does not care for the subway, where the gusts of wind remind him of "big, big, big fear. Big fear."
Fear plays a starring role in his paintings in this show. All made in the past five years, they're not unlike Eraserhead, or Francis Bacon, whose work Mr. Lynch first saw in person at Marlborough Galleries in 1966, when a group of his fellow students from the Pennsylvania Academy of the Fine Arts visited New York for the exhibition. At the entrance of the Tilton show, there's a baby blowing his head off with a shotgun after he discovers there's no Santa Claus, who is represented in sculpture, flying out of what had been the tot's skull.
A wayward art student who had to settle for being a visionary filmmaker, Mr. Lynch has never really stopped making the kind of art you hang on walls. He's the owner of a fearsome imagination that craves expression the way the demon Bob craves murder on Twin Peaks, and the Fondation Cartier recently released a book of his paintings that included his doodles on matchbooks, Post-Its and napkins. In the '90s he was pretty enthusiastic about using dead bugs in his work, the pièce de résistance in this series being his Bee Board, actual bees mounted on an entomological board and labeled with names like Ronnie, Jack and Harry.
"The bees, unnamed, all look the same," he said on the patio. "Pretty much. But when you name them and you look at them again and you connect the name with them, they seem to take on a little personality based on the name."
"My son Riley was named after a bee," he added, casually. "From the Bee Board." (Ms. Rossellini still has the original.)
David Foster Wallace, in his 1996 essay "David Lynch Keeps His Head," proposed that all the characters and human drama in Mr. Lynch's films might actually be expressionistic representations of ideas and emotions in Mr. Lynch's mind, trivialized and also made more vital by the fact that they have names and faces associated with them.
"I think that has some truth to it," Mr. Lynch said, adding that he never read the Wallace essay. "The ideas seem to come not from me. They just seem to announce themselves and so I can't take credit for them. It's like taking credit for somebody that stops by your house. Some fantastic character comes by, it's got nothing to do with you. But when you interpret the idea, it passes through you and so in the interpretation there might be something of a person. But basically the idea is just: stay true to the ideas."
Visual art is the only medium in which Mr. Lynch has nearly complete control over every element in the end result, which would obviously appeal to someone who, despite having a reputation for doing pretty much whatever he wants in Hollywood, still has studio-system failures like Dune on his résumé. A New Yorker story about the aborted Mulholland Drive television show had Mr. Lynch painting on a plank, after the cancellation of an earlier show, "I WILL NEVER WORK IN TELEVISION AGAIN."
Reviews of the 2D Lynch oeuvre tend to damn with faint praise ("authentically surreal") or focus on one of the elements that the reviewer does like, they way you might at a friend's opening ("The most striking feature of Lynch's work is the lush quality of its dark area").
"I don't know whether it's shock art or schlock art," Giuliani Parks Commissioner Henry J. Stern told The New York Times when he booted Mr. Lynch's cow sculpture from CowParade 2000 simply because he'd decapitated it, stuck forks and knives in its rump and scrawled "EAT MY FEAR" on the side. "David Lynch should stick to his day job, making movies."
Mr. Lynch's longtime Los Angeles dealer, James Corcoran, who met Mr. Lynch through Dennis Hopper, couldn't recall if the actor had collected Mr. Lynch.
"Yeah, I'm not real popular in that world," Mr. Lynch said of collectors. "I've been working all through the years but I've had very few shows and there's a whole thing—it makes you puke—the idea that 'a filmmaker starts painting or whatever.' People don't know that that's what I started out doing."
Before enrolling in the Pennsylvania Academy of the Fine Arts, he'd bounced around other art schools and Europe, and his output at that time tended toward the abstract. According to the 2008 biography Beautiful Dark, Mr. Lynch was once doodling on the Orient Express when his geometric pattern interested a foreign passenger who remarked, over the young artist's shoulder, "Looks like a labyrinth." "Sorry," Mr. Lynch responded after a few seconds. "I don't speak German."
Last Friday night, the line to enter his artist's reception stretched from the Tilton's townhouse, close to Fifth Avenue, all the way to Madison. No fewer than six women wore glasses identical to those of the Log Lady on Twin Peaks and the line "Heineken?! Fuck that shit! Pabst Blue Ribbon!" came to mind, though Mr. Lynch has never visited Williamsburg, and actually doesn't know what it is. He held court on the second floor, near the secret elevator that would take him down to the patio for smoke breaks.
"I just wanted to tell you," a woman in a tan dress said before she posed for a picture with the director, "that your film The Alphabet still gives me nightmares."
"Aw, God bless you," Mr. Lynch clapped her cheek.
"No!" she shot back. "It's a good thing."
"What is that you're chewing?" Mr. Lynch later asked a goofball in tweed about to take his picture.
"Hickory!" said the goofball. He lowered the camera and removed a miniature log from the corner of his mouth. He then hovered the stick for a Lynchian three seconds. "It is so good," he said, and put it back between his teeth.
At one point an elderly blind man stopped by and someone brought out a chair for him, placing it between the two landscapes in the back room of the first floor. "Great show!" he exclaimed, from the chair, between sips of Champagne. "Fabulous stuff!"
After the opening Mr. Lynch sat out on the patio once again. He nursed a glass of whiskey, surrounded by three women with long dark hair.
Upstairs, a guy who said he's been watching Eraserhead since he was 9 had asked Mr. Lynch to draw him a to-be-inked-later tattoo with a Sharpie and Mr. Lynch had thought for a moment, and then pointed the offered arm at a nearby painting titled Duckman's Injury, drawing a little cartoon duck on the man's wrist.  The tattoo request wasn't uncommon, he said on the patio. "I've signed women's breasts, I've signed people's backs."
"What?!" said one of the women, a friend of his wife, Emily, who sat next to the director. "You've signed women's breasts?"
"Yes," Mr. Lynch said, tapping his fingers against his glass. "The girls like that."
"It's kind of a collision of a lot of worlds," he said of the crowd, "because a lot of people come not necessarily for the paintings. But everyone's so nice, I don't mind at all."
dduray@observer.com
Correction, 3/21: An earlier version of this story misstated the name of Mr. Lynch's alma mater.