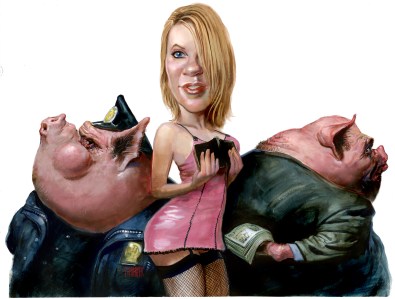 Just before Christmas last year, NYPD Commissioner Ray Kelly hosted a small, cosmopolitan group of pretty young women in his office at 1 Police Plaza. Most were immigrants to the city, having come from Asia, Central America, Eastern Europe and around the United States. Because of the sensitive nature of what they would discuss, only two other officials were present—the NYPD's chief counsel and the commanding officer in charge of vice.
The women spoke different languages but had at least one thing in common: they had all been brought to the city to labor in the sex industry. The non-natives' first English words were "blow job" and "fuck."
They told harrowing stories of being kidnapped, imprisoned and forced to sell their bodies. One immigrant without legal status in the U.S. described being shuttled around in a livery car, the driver delivering her to various "customers" one after another. "She was basically a prisoner," said one participant at the meeting.
Mr. Kelly spent two hours with the women, an unusual investment of time for the commissioner. "He has a lot on his plate," NYPD counsel Katherine Lemire told The Observer. "It was very, very moving. You could tell these women have been through a lot, and for them to come in to the NYPD and have them tell their stories was intimidating for them. That's why the Commissioner kept the attendance on our side pretty low."
Shortly after that meeting, which antiprostitution advocates had long been requesting, Mr. Kelly created a new antitrafficking squad, believed to be the first of its kind in an American city. And in the next two months, the NYPD shifted its focus for the first time to arresting johns rather than prostitutes. In two sweeps, one in January and one in February, 386 men were arrested. Many have since been arraigned, and fined between $150 and $250. Some are completing community service and have had their cars impounded. In exchange for leniency, the DA's office has interviewed many of them, seeking information about trafficked women.
Deputy NYPD Commissioner Paul Browne told The Observer that Mr. Kelly has now "directed commands citywide to respond to complaints about prostitution by identifying locations and then arresting the johns through the use of officer decoys and their back-up teams."
"We are very much in agreement with how the NYPD is handling these cases, in terms of their stepped-up efforts in johns cases," executive assistant DA Karen Friedman Agnifilo, chief of the trial division, told The Observer. The DA's office has a number of human trafficking cases in the works, she said, including one against a New York City pimp who has "branded" his girls with tattoos.
The new law enforcement emphasis on the demand side was not apparent last week, as Anna Gristina, the "soccer mom madam," was carted off to Rikers Island, where she remains, unable to cover a $2 million bond (despite being charged with only one count of promoting prostitution). Instantly, the mother of four became a tabloid cover girl, as law enforcement sources dangled leaks about her business. Ms. Gristina was sitting on a fortune, sources said. Her clients were rich and powerful. City officials had made it known that they had her on tape bragging about her well-heeled customer base. The Daily News, hard out of the gate on the story until it got beat on the first jailhouse interview, characterized the johns as "a roster of bold-faced names including royalty, state politicians, CEOs, club owners and members of the boards of city hospitals and art institutions."
Clearly the authorities know who many of those johns are. No names have been forthcoming, however. Rather the "curvy strawberry blonde," who had a soft heart for orphaned pot-bellied pigs, used the New York Post to assure her regular patrons that her incarceration wouldn't alter the discretion for which some had paid the equivalent of the median American annual income.
"I'd bite my tongue off before I'd tell them anything," she declared, in her Scottish brogue.
If history is prologue, the men have little to worry about. Like 90 percent of the johns in the United States, New York's most famous prostitution customer, the notorious Client Nine, was never charged with a crime. Client Nine's favorite rental girl, Ashley Dupré, was never aware that the square-jawed, important-seeming guy who fucked her bareback without ever removing his black socks was the governor of the state of New York, or that he helped write and then signed into law the nation's toughest anti-human trafficking statute.