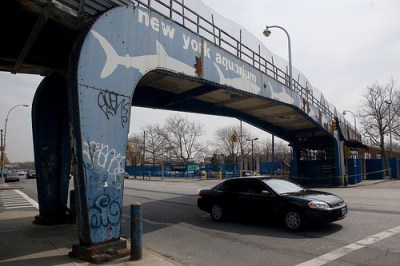 The dumpy footbridge over Surf Avenue is going the way of diving horses and dangerous rides.
The New York Post reports that the city plans to replace the West Eighth Street eyesore connecting the subway to the beachfront with an $11 million plaza in an adjacent vacant lot. The plaza will be covered in smooth, blue heat-resistant pavement. At least the materials recycled to make this fancy pavement—glass and cement—will be familiar to Coney Island old-timers.
Drawings of the dignified beach entrance show an expansive, three-tiered walkway with plantings, bike racks and seating—in case anyone's looking for a place to relax between the street and the boardwalk?
While an $11 million plaza seems like an expensive upgrade from a bridge covered with paintings of fish, the city says that a new bridge would be too costly to build and maintain. And besides, the plaza dovetails nicely with the city's grand revitalization plan for the once-seedy destination.
The six-decade-old bridge will be demolished after this summer season, with plaza completion expected in 2014.
At least this plan is reported to be more popular than the city's decision to replace part of the beloved boardwalk with slabs of concrete and faux wood beams. But coming on the heels of the Cyclone's renovation (after which the historic coaster is expected to offer a disappointingly smooth ride), the end of an old pedestrian bridge that no one really liked feels like yet another nail in the coffin of rickety, dirty, gritty Coney Island.