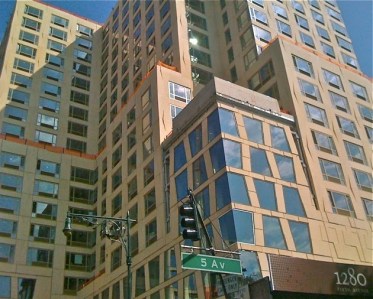 It worked for Francis Gumm, Norma Jean Baker and Gladys Mary Smith, so why not a condo project with less than stellar sales?
The Journal reports that the condo formerly known as 1280 Fifth Avenue is now going by a new moniker: One Museum Mile.
Apparently, the East Harlem building's bid to woo the type who lusts after a pretentious-sounding address wasn't going so well. (We'd guess address droppers would be super attentive to any street number above 96th Street—the building is located between East 109th and East 110th Streets).
Of course, the building is putting a positive spin on its new identity. (And the building will house the Museum of African Art, so the new name is not all bluster. Plus, as of last summer, after the City Council extended the district from 104th Street to 110th, the building is technically in the Museum Mile.
"Depending on your perspective," Developer Bruce Brickman told The Journal, "we are the first building and museum that we see coming down from the top of the park. We feel we begin the Museum Mile."
Before changing its name, the condo also experimented with tried and true methods for stimulating sells—dropping prices, renting units. The re-branching effort is expected to launch later this month.
The whole affair made us wonder if some other structures around the city might be better-served, or at least better-described, by new names. The Barclays Center could be One Eminent Domain, for example, the Toren in Brooklyn, with its library profiled in The Times, might become One For the Books. As for the stalled Domino Development in Williamsburg, how about One Hipster Too Many?
And, if the renaming doesn't work out, there's always that old standby: rechristening the neighborhood. We"re looking at you ProCro.
kvelsey@observer.com
—