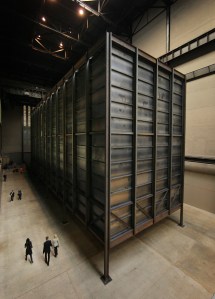 The Financial Times gave the Metropolitan Museum of Art's new chairman of modern and contemporary art, Sheena Wagstaff, the profile treatment this weekend, and the former Tate Modern chief curator drops some hints about what she has planned.
At Tate Modern, Ms. Wagstaff was involved with the Turbine Hall commissions, the gargantuan-scale works that fill the grand hall of the museum once a year. The curator reveals that something similar may be in the offing at the Met, or the Whitney's Breuer building, which the museum is scheduled to use for contemporary programs when the Whitney moves to the Meatpacking District in 2015. Here's Ms. Wagstaff:
"The Turbine Hall [at Tate Modern] offers a space in relation to the museum that has been enthusiastically interpreted by artists. At both the Met and the Breuer, I would think we'd identify with artists a similar kind of critical space."
We'll wait to see how exactly this pans out before weighing in, but one hopes the Met will not conceive any initiative as absurdly grandiose at the Turbine Hall projects. As the FT's Gareth Harris writes, those commissions have made the former Tate Modern "a museum of spectacle." Its jumbo-sized architecture forces contemporary art to conform to its rules and standards. It feels like a challenge on the Work of Art television show, only with more time, space and money to get the job done.
Art should guide curatorial agendas and architecture, not the other way around. And while the Met understandably wants to be a major player in contemporary art, there has to be a better way to achieve that than creating a one-size-fits-all "critical space" for artists to "interpret." It's shown it can do that in the past, as when it gave Kara Walker free reign to curate what became "After the Deluge," an elegant and nuanced show of historical work from its collection. Here's hoping for more of those.