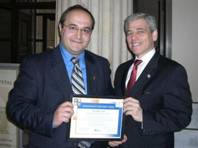 Earlier this month, The Politicker reported local politico Ben Akselrod was considering a primary challenge against Democratic Assemblyman Steve Cymbrowitz, and last Friday, Mr. Akselrod registered a campaign committee for that very seat, suggesting he's moving forward with his plans.
Mr. Cymbrowitz, who won relatively narrowly in 2010 despite facing a neophyte opponent with $600 in his campaign account, was already in a precarious electoral position for the general election, especially considering the district delivered strongly for the Republican Party in two special elections that have occurred since. If Mr. Akselrod indeed challenges Mr. Cymbrowitz in the primary, that would only add to his electoral headache.
Some Brooklyn politicos have privately argued that a Russian-speaking Democratic candidate like Mr. Akselrod would help blunt the district's Republican trend. Or, as the Room Eight blogger Gatemouth phrased it, "With Obama on the ballot and a strong Orthodox presence in the district, the GOP might win here no matter who the Dems run, but, as the Jews like to say about chicken soup, a little borscht couldn't hurt."
Gregory Davidzon, the owner of multiple Russian language media outlets popular in this corner of southeastern Brooklyn, has indicated he would likely get behind Mr. Akselrod's candidacy as well, which may further boost his efforts.
The eventual Republican candidate is unknown. It would seem attorney David Storobin, who's currently locked in an extremely tight special election for a State Senate district that will substantially change due to this year's redistricting process, would be the strongest candidate, but he has vowed to seek reelection to the State Senate instead.