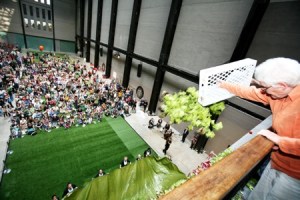 Capital New York has a write-up of Fluxus great Alison Knowles's recent performance of Make a Salad at the High Line this past Earth Day.
Here's an excerpt:
Among the artist's other event scores are "Shoes of Your Choice," which involves members of the audience coming up to a microphone and describing a pair of shoes, and "Child Art Piece" in which a child is led onto a stage by a parent and then allowed to behave however he or she wishes; the performance ends once the child decides to leave the stage.

"You wouldn't guess the things that could happen!" Knowles exclaimed when we spoke the day before the High Line event, discussing her experience staging the child event score, which debuted at the Fluxus Festival at the Staatliche Kunstakademie in Dusseldorf in 1963. "The child could sit down. The child could start to cry. The child could run off the stage. The child could go up to the front and look at the audience and wave." Unfortunately, she was only able to stage that particular piece a few times, because of what she described as "bureaucracy." Children "four years or younger," she said wearily, are "not allowed on the stage. The mother has to sign papers."
Read more here!