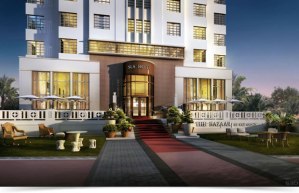 Miami Basel goers, here's a little service journalism for your Monday afternoon: there will be a luxurious new hotel available for your South Beach events in December, as the fair celebrates its 10th anniversary.
That hotel is the SLS Hotel South Beach, stationed at 17th Street and Collins Avenue, in-between the Raleigh and the Delano. It opens at the end of May so it should be humming nicely by Basel time. Philippe Starck, who's handling design at the hotel, says in a statement he wants the interior to feel a "journey into your own dream world."
Mr. Starck is really angling for art types to stay at the SLS, describing the main dining room in the hotel's restaurant as an "out-of-focus memory of the charming dining room of your grandmother who loved art. Art was everything and everywhere. She loved only one color: acid yellow. And positioned everywhere on this acid yellow are paintings, photographs, book shelves and sculptures that recreate for you her rich and foolish sub-consciousness."
Lenny Kravitz and Kravitz Design Incorporated are designing the penthouse and one of the 10 bungalows out by the hotel's pool.