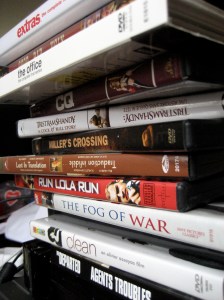 At this point, visiting a video store is somewhat akin to smoking a pipe or traipsing around town on a penny farthing—well, unless you live in Williamsburg. But the city's few survivors have trudged on, against all odds, for so long that it's not only sad, but weirdly surprising, to see them go.
The latest casualty of the Netflix era is West Village staple Video World, The New York Times reports. After 30 years, the store will  close on Saturday. It was one of Manhattan's few holdouts, after Midtown East's New York Video shut down its store last fall, reinventing itself as a DVD delivery service.
Like so many other dearly departed Village institutions (R.I.P. Lakeside Lounge), the trouble with World Video had to do with a lease, in this case, a lease that was lost to someone who was almost certainly willing to pay more money, in a neighborhood and a borough where someone always seems willing to pay more money.
Of course, the declining number of customers who still rent DVD's and the medium's impending obsolescence were not factors in the store's favor. For most people, a physical place where you go to rent a physical movie is nothing more than a hazy memory.
But still, it was nice to think that there was a place where such things still existed, staffed by evangelical film buffs for whom movie recommendations were an art rather than an algorithm.
"When I came in one night and said I needed to laugh, Pete did not recommend The Hangover," reporter Bill Hayes, a devoted customer, writes. "Instead, he steered me to Alec Guinness in Kind Hearts and Coronets. I will always be grateful for that."
kvelsey@observer.com