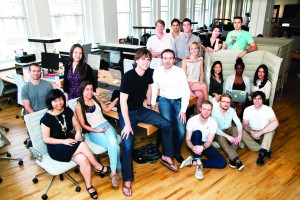 Time Inc., which runs the brands Time, Fortune, CNNMoney.com, People, Sports Illustrated, Entertainment Weekly, and InStyle, is a big fan of lists. This new one is about 10 tech start-ups to watch, and our old friends Art.sy, now in beta, made the cut.
Time Inc.'s description is as clear as any, so if you don't know what Art.sy is, here you go:
A new way to discover art, featuring work from leading galleries, museums and private collections around the world. Powered by The Art Genome Project and run by a team of art historians, Art.sy evaluates artworks across 800+ characteristics to create a powerful search experience.
Art.sy has some powerful friends in the art and media worlds. (Full disclosure: Josh Kushner—the brother of Jared Kushner, the owner of this newspaper—is an investor in the site.) Wendi Murdoch and Dasha Zhukova are major supporters, and curator John Elderfield is a senior adviser.