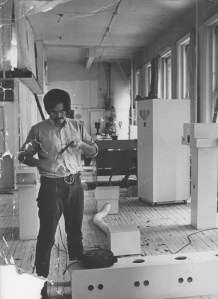 To catch one of the most intriguing shows in town, you'll have to head for the Bronx, where the Bronx Museum is currently exhibiting the work of the late Juan Downey. Trained as an architect in his native Chile, Downey became known in New York, in the 1960s, as one of video art's pioneers. He was a kind of amateur anthropologist and an imaginative tinkerer, one whose territory ranged from the MIT Art and Technology program in Cambridge to the Amazon; it is MIT's List Visual Art Center that has co-organized the Bronx Museum's excellent career survey, curated by the Berlin-based Valerie Smith.
Showing with Howard Wise's experimental media art gallery in New York, Downey created pieces like his 1969 Do Your Own Concert, which records and plays back the viewer's sounds via interactive eight-track, and Inside the Robot (1970), in which Downey hid inside an eight-foot-tall box equipped with wheels and chased the audience at his opening. His colorful drawings of these early projects are on display here. Exceeding the usual format of architectural or engineering diagrams, they become ornate explorations of the energy flow between animate and inanimate objects. He made chairs that inflated and deflated, in sync with the breathing and heartbeat of whoever sat in them; he made machines that communicated with other machines via electronic music, humidity or radio waves. His projects verge on the absurd, but they also speak to a certain strain of utopianism in American art and architecture—think Buckminster Fuller—and its legacy in the age of new media.
Downey's work is nerdy-Shamanistic, always looking to tap into and render visible the hidden relationships between the worlds of flesh and spirit. It did so amid the trappings of a tinkerer: self-soldered computer equipment, amateur laser projectors, nine-volt batteries. Unlike Kraftwerk, the German electronic group that sought the perfect machine in the human (and just completed a series of performances at the Museum of Modern Art), Downey sought the imperfect and human in machines. Consider the eccentric logic of a piece like A Machine With Three Conditions (1968), which emits strobe lights and music from a tape recorder if it is touched by human hands and radio waves when the room is dark enough. For Plato Now (1972), Downey enlisted as performers his friends the video artists Bill Viola and Nam June Paik, who wore bio-feedback headphones while meditating on the live faces of the viewing public on small TVs. It's equal parts Plato's Cave and Chatroulette.
In the mid-1970s, Downey embarked on a series of road trips to South America, venturing to Mexico, Peru, Bolivia and Chile, and finally to the Amazon, where he spent a year videotaping a tribe called the Yanomama. His trips resulted in a video series called Video Trans America, shown at the Bronx Museum on some dozen TV monitors. That his journeys were made by car and much of the footage was shot out the window and that Downey himself came from Chile, albeit from urban Santiago, complicate the project—it's less Charles Olson than Marshal McLuhan doing the Lonely Planet version of Everything Is Illuminated.
Romantic ecological themes emerge from a number of Downey's videos. In The Abandoned Shabono (1977), as Downey films the ephemeral architecture created by these people, he muses of his hosts: "They do not pollute, they do not alter with man-made objects the primeval forest." At another point he says, "The tribe is a metaphor for myself." He is an outsider—a videographer among people who wear loincloths and maintain a unique cosmology—but he is seeking his roots. As if to underscore his difference from his subjects, he interweaves his footage of the Amazon with interviews he conducted in French with a Parisian anthropologist who is filmed while seated in a modernist chair. The 18-minute video Chiloé (1981), about the island where his mother was born, is a stunner: the folk music and searching landscape shots are overlaid with Downey's self-conscious voice over, which reveals him as the prodigal son decked out in video portapak.
If the show has a weak point, it is that a few too many of Downey's maps are on display. These oil-and-graphite-on-wood paintings, like Two Maps (1985), show the North and South American continents striated with radiant cartographic energy lines that suggest tides or the flow of invisible, gravitational forces. They are large, and not exceptionally interesting; they are intriguing insofar as they literalize Downey's irreverent interest in technology, cosmology and cartography, but look distinctly like the sort of thing one might do while stoned.
Considerably more compelling are the 16 Meditaciones (1976-77), colored-pencil-and-graphite drawings festooned with feathers. These track the elliptical shapes and spirals Downey found in South American origin myths. In one, 10 lapidary yellow feathers are arranged in a circle. Also striking is the 1985 piece in which newspaper articles from various Chilean political perspectives—from Marxist to sympathetic to Pinochet—radiate out from the wall. The politics of the work and its formal use of the corner of the gallery presaged Felix Gonzales-Torres's installation pieces made up of piles of candy.
Downey died in 1993. The last decade of his career had its highs—a collaborative performance with Gordon Matta Clark, in which the two friends administer free fresh air to Wall Street workers, and a drawing of a utopian plan for Roosevelt Island, in which an "Invisible Axis" passes from East 73rd Street to Queens—and its lows, such as his video work, which became increasingly pedantic. Drawn heavily from the theoretical writings of Michel Foucault, Leo Steinberg and Jacques Lacan, the videos—mostly grainy, late-night TV footage collaged together—are plagued by voice-overs about colonial theory and irritating video graphics. Still, Downey's subjects managed to fascinate: they ranged from Bach to Thomas Bernhard, NASA to Christopher Columbus. Late Downey is just uneven: About Cages, which features six live canaries, a TV monitor, chicken wire and a voice over, may be terrible, but his 20-minute re-enactment of Velazquez's famous painting Las Meninas as video tableau is absorbing and prescient, anticipating the work of Eve Sussman.
Despite his two-decade stint teaching  at Pratt and Hunter, and his inclusion in the seminal 1980 "New American Video Art" survey at the Whitney Museum, in exhibitions at PS1 and MoMA, and in eight Whitney Biennials, he remains relatively unknown. This is his first retrospective. He is not, to be sure, a major artist; his videos can be long-winded, and his paintings heavy-handed. But he comes across as an inspired experimenter with new and ancient materials, and a sympathetic and quirky character. It's well worth looking back at an artist whose interests had such a wide range, from new media, to mysticism, to an idiosyncratic form of Post-Minimalism and who, in his very eclecticism, looked forward to the practices of many of today's young artists.
editorial@observer.com