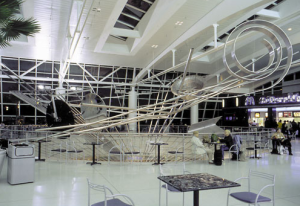 Alice Aycock has requested that a federal judge intervene in the scheduled dismantling of her sculpture "Star Sifter" at John F. Kennedy International airport, a move to create more space for vendors.
The Wall Street Journal reports that Ms. Aycock succeeded in getting a temporary restraining order against Terminal One Group Association, the management group that oversees the terminal on behalf of four airlines in Terminal 1 before today, when it planned to take down the aluminum-and-steel work that is 60-feet wide and 40-feet high. The work has been there for 14 years.
In a statement by Jo Laird, an attorney for Ms. Aycock, Mr. Laird said:
The artist's original contract clearly states that the work may only be removed if it is 'required' or 'necessary' to do so… Structural repairs and airport safety might satisfy that standard. But we cannot see how the addition of a few more vendors in the food court located outside of the security checkpoints would do so.