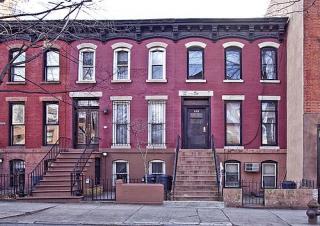 Known for her prominent public sculptures and unconventional materials, conceptual artist Teresita Fernández is a master of transformation. And a good thing, too, given that 165 Bond Street, the townhouse she just purchased, could use a major one.
Ms. Fernández bought the gut-renovation-ready home for the list price of $1.2 million from Frances Ortiz, according to city records. Coldwell Banker Reliable broker Mary Kay Higgins didn't pull any punches in the listing, which skips euphemistic chatter about charm and TLC and goes straight to the square footage and zoning details. A YouTube video of the listing (see below) shows dingy, junk-filled rooms, fake wood paneling and a blue-tiled bath right out of a 1970s horror movie. A close-up of the trash-strewn yard completes the depressing montage, though the piano chords do seem to perk things up.
No word on whether Ms. Fernández, who lives nearby on Douglass Street, plans to use the building as a home or a studio.
Maybe the artist, a winner of the 2005 MacArthur Fellowship and a member of the U.S. Commission of Fine Arts who shows at the Lehmann Maupin gallery in Chelsea, was just looking for a different kind of project.
Ms. Fernández, who is originally from Miami, has professed her love for the borough before, Boerum Hill in particular. After winning her MacArthur genius award, Ms. Fernández told the New York Daily News that she had initially tried living in Manhattan, but found Brooklyn more inspiring. "It really felt like home immediately," Ms. Fernández said.
The same might be hard to say for 165 Bond Street, but it's hard to imagine the property falling into more capable hands.
kvelsey@observer.om