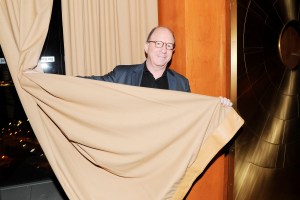 ArtPrize, the annual art competition in Grand Rapids, Mich., which awards artists sizable financial awards based on public voting and the verdicts of experts, will have a star-studded cast of jurors in its 2012 edition, which is the fourth iteration of the project.
Michigan Live reports that some of the expert jurors include Jerry Saltz, New York magazine's senior art critic; Tom Eccles, the director of the Center for Curatorial Studies at Bard College (who's also heading up the Frieze New York sculpture park); Lisa Freiman, chair of the Indianapolis Museum of Art's contemporary art department; and art writer Tyler Green, who pens the Modern Art Notes blog and serves as U.S. columnist for Modern Painters magazine (to which, full disclosure, this writer occasionally contributes).
Mr. Saltz will head the three-person jury awarding the $100,000 Jury Prize, joined by Mr. Eccles and a juror to be named later. Mr. Green will present the award for Best Two-Dimensional Work and Ms. Freiman will be in charge of choosing the Best Three-Dimensional Work in the competition. M Live has the full list.
Registration for ArtPrize 2012 starts today: let the games begin.