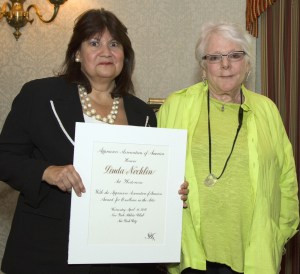 Art historian Tamar Garb apologized before clicking to the next slide during her presentation on Wednesday afternoon in the grand banquet hall at the New York Athletic Club on Central Park South. "You'll forgive me for the somewhat outrageous image," she said quickly, "but I thought it was quite important not to sanitize the reputation of Linda Nochlin in a situation like this."
Up popped a photo of Ms. Nochlin, the eminent and trailblazing feminist art historian, at the Centre Pompidou "surrounded or flanked, as you can see, by two scandalous Robert Mapplethorpe images"—that unforgettable one of Louise Bourgeois, with a devilish grin, cradling a huge phallic sculpture and another of a man in a suit, from the chest down with his penis hanging out of his pants.
"Nothing about Linda is coy," Ms. Garb explained, to nods and laughs of approval from the crowd of a few hundred. "She doesn't shy away from dealing with difficult issues, the body in particular."
In 1971, already a formidable figure in her field, Ms. Nochlin, penned "Why Have There Been No Great Women Artists?"—a devastatingly precise assault on gender imbalance in art history. "I think it was the single most important article in the history of art in the late 20th century," Ms. Garb said. That line earned applause.
This was the AAA's annual award luncheon, and Ms. Nochlin was the honored guest, sitting at a nearby table in an electric lime-green blouse. We sat next to a wealth manager who politely quizzed us about how young writers survive in New York. There was salmon and quiche, a generous caprese salad and wine.
As Ms. Nochlin and the eminent editor Betsy Baker (whom we saw again later, at the Guggenheim, for the John Chamberlain memorial) took the stage for a postprandial discussion about art, a light chocolate mousse arrived.
"When did the idea of 'the new' surface in art?" Ms. Baker asked. "And was it ever seen as a virtue, a necessity, a problem, all of the above or something else?"
"Wowww!" Ms. Nochlin exclaimed. "Thanks, Betsy. I'm glad you're an old friend, because that's a hard question." But she handled it with aplomb. "The modern age was seen as a sad falling off—from the glory of antiquity," she said. She imitated artists of long-ago centuries, in a defeated tone: "Would that we could make poetry like Ovid or write an epic like The Iliad!" Things started picking up in the 16th and 17th century as science and humanism began to appear, she said. Today, of course, is all about chasing the new.
Ms. Nochlin feels positive about the present. "Interesting and progressive and different things are going on in the art world right now, and I think it is a good moment," she told Ms. Baker. "It's hard to define the moment. It's so nice when an ism happens—and you can say, 'Oh yes, this ism is just what is the newest thing, and we all love this ism!'"
Though Ms. Nochlin has long had a track record of embracing the unusual and adventurous from all sorts of isms in art history and contemporary art, she admitted that she is partial to some types of work more than others. "In my deep of heart of hearts I'm an old realist or a new realist or whatever you want to call me," she said. (She's been painted by a few great realists over the years, including Alice Neel and Philip Pearlstein.) "I love the human figure and brushwork and good outlines," she said happily. "And representation—that forbidden word—I've loved."