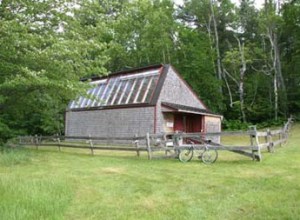 Last night at Skylight Soho, for the Skowhegan Awards Dinner celebrating the prestigious artist residency in Maine, Ann Gund, the arts patron and chair of the Skowhegan board, approached a podium as the crowd was digging into their first course, and told everyone something that was a big relief.
"This year we have more artists participating and fewer speeches," she said of the event. "Awards will be during the main course, so we can get it over with."
Skowhegan, which has been around since 1946, had 2,056 applicants for 65 spots in 2012. An artist next to me at the dinner, who spent a summer at the residency in 1999, described the place as a "three-and-a-half month studio visit, like a studio visit with laundry."
Kathy Halbreich, the curator and associate director of the Museum of Modern Art, presented the artist awards. She spent the summer of 1965 at Skowhegan and described herself as "the first and last 16 year old to attend." She also mentioned that it was "the first time I got stinking drunk, which prepared me for a life in the arts" (as if on cue, I loudly dropped my fork when she said this and it clanked against the other silverware). Alex Katz, who was teaching at the school the summer Ms. Halbreich attended, had something to do with her ditching her career as an artist to become a curator and historian. His critique of one of her paintings was "take it away."
The award for conceptual and interdisciplinary practices went to Luis Camnitzer. He thanked his second-grade teacher and a homeless man that was lying outside one of his first museum shows (the man told him to keep up the good work). Mary Heilmann, who won the award for painting, treated everyone to an impromptu contemporary art history lesson.
"The reason I became an artist was to have an identity and a vocation," she said. "But the main reason was to meet guys. Some of them liked it. So that worked out."
Kara Walker won the award for sculpture, installation and drawing. She didn't want to talk about the time in the early 90's when Skowhegan rejected her application.
During dessert, Papo Colo accepted the Governors' Award for Outstanding Service to Artists on behalf of Exit Art, the organization he founded with his wife Jeanette Ingberman, who passed away in 2011. Exit Art will close this May after 30 years of showing avant-garde work from around the world.
"This award belongs to my wife," Mr. Colo said. He was tearing up. "My partner who is now gone. Thank you to you."
It was a moving moment, something that almost never happens at a benefit gala, but its tenderness was cut off a little short: After he left the podium, Marie Elena González, the vice-chair of the Board of Governors who presented the award to Mr. Colo, quickly called him back on stage; she forgot to hand him the award.