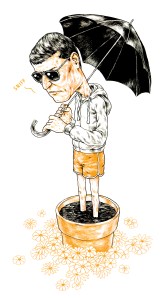 I'm not much of a gardener, but I'm an obsessive anthropomorphizer, and so I garden primarily out of guilt. In the autumn, I shudder to hear the leaves scream as they fall to their deaths; in winter, my heart breaks for the trees, trembling in the cold and wind.
Why? the trees ask. Why?
But I have no answer.
Which brings me to my houseplant—I'll call her Flannery—a corn plant. I've never liked houseplants, I don't know why. They make me angry. I am, however, a man of much irrational hatred, and only realized why houseplants infuriate me so much this past weekend, when Flannery died.
I took her in a year ago. I was in my local nursery when I saw Flannery there, in a corner beside the door, in a pathetic plastic pot, and she called out to me:
I'm young, Mister, and frightened; please don't leave me here …
I felt bad for Flannery—she seemed small and broken and needful—and so I picked her up and put her in my cart, and I bought for her a hand-painted Indonesian pot, and a bag of premium indoor potting soil, and I came home, and I gave there to Flannery the sunniest corner of the house, by a window overlooking the yard and mountains in the distance.
Thank you, Mister, said Flannery. You truly have saved me.
I had. That was true.
After a few months, though, I noticed Flannery's stalk beginning to bend toward the window, giving her something of a hunched-over appearance. I figured Flannery was simply leaning toward the sun, and so I turned the pot around so that in reaching for the sun yet again, she would thereby straighten up. Though she didn't straighten, I noticed after a few months that she once again began growing in the direction of the window; her stalk now had a strange S bend in it, and made her look aged, sickly. My hatred for houseplants began to return.
What? I asked her. What the fuck do you want? I've given you everything a corn plant could want!
And then, a month ago, the strangely warm Northeast winter became a disconcertingly hot Northeast spring, and I woke one morning with a stretch and a smile as the sun streamed into the bedroom.
"Let's go kids!" I said. "It's a beautiful day, we should be outside!"
We played a little football, had a picnic at a nearby park, and tossed a stick around the yard with our young pup, Natasha. We came inside, our knees scuffed, our cheeks rosy, the kids loud and boisterous—and that's when I saw Flannery, at the window, and my heart broke, for I immediately knew what she needed. Her stalk, twisted in desperation for the outdoors, cried out to me loud and clear:
Oh, Mister, said Flannery, I do only want to be outside (she had taken on the persona of a Southern belle, sort of a Tennessee Williams character), like you and your adorable children.
Was she, after all, any different from me? Was this why I hated houseplants so much—not because I hated them personally (that would be crazy), but because I sensed their confinement and desperation?
Last year, we took our kids to a beach vacation in the Caribbean, where every morning, the hotel staff would wheel out a tremendous birdcage, inside which perched a stunning blue-and-green parrot. Whom I hated. She sat there all day long, bashing her head against the bars again and again.
"Why is the bird doing that, Dad?" my son asked.
"Do you know what suicide is?" I answered.
"What's suicide?" he asked.
"Well," I said, "I don't think he's very happy in there. I think he wants to get out."
I didn't hate the parrot at this point; I felt bad for her, in fact. The hotel employee overheard our conversation, though, and quickly corrected me.
"Oh no, no, no," he said with a laugh. "She thinks she wants out, but she wouldn't last five minutes out there."
That's when I starting hating her.
Which brings me back to Flannery. I told my family to start dinner without me, and hurriedly carried Flannery outside, where I planted her in a sunny spot near the rear of the house. Free.
That night, as I lay in bed, I swear I heard her singing. And then, like I do every year, I began to sneeze. My eyes began to itch. My throat began to burn, and I began to cough. I don't so much have seasonal allergies, as I do have one season—winter—where I don't have any allergies. The rest of the year, I itch. I sneeze. I double over in violent expectoration. My head pounds from the congestion within it, and I medicate—heavily: one 24-hour Zyrtec pill at night, two 12-hour Claritin Non-Drowsy pills during the day (one upon waking, one at noon), Visine Maximum Strength Soothing Eye Drops, a pocket full of tissues, three Advil for the headaches and a stiff Benadryl chaser as needed.
And so this past weekend, as the sun crept like a criminal into my bedroom, I woke one morning with a stretch and a sneeze and a cough.
Fuck this fucking planet, I thought.
"Let's go, Dad!" my kids said. "It's a beautiful day, we should be outside!"
I took my Claritin, filled my eyes with Visine, blew my nose, took a Benadryl and went outside to play. Three hours later, the medication began to wear off, and I stumbled, blinded, sneezing, coughing, in failure and agony, to the house.
"Where you going, Dad?" my son called.
"Inside," I said.
And that was when I saw her.
Flannery.
Her leaves had fallen, her stalk was black. She was dead.
I looked at her there, and I sneezed. And I coughed. And this is what I thought:
Fuck you.
And that's when I realized, at last, why I hate houseplants:
Because I am one.
I'm a fucking houseplant. I'm that asshole of a parrot. I like to think I want to go outside, but I clearly don't belong there. The air is trying to kill me. I can't last more then 10 minutes without a handful of pills and medication. Even when I do manage to control my physical symptoms, even when I can get past the relentless attack of nature—there are people out there. Other people. And these people do this thing, with their mouths, where they blow air out as they make shapes with their lips and they make sounds, as they walk down the sidewalk and they say things, things like I friended you on Facebook and He's a secret Muslim and Did you read Ashton Kutcher's tweet about Whatever-the-Fuck?
Inside is the place for me. Where the air is filtered, the window blinds block out the sun, and the locks on the doors can keep the people away.
I'm a houseplant.
And the lesson of Flannery shall not be forgotten.
editorial@observer.com