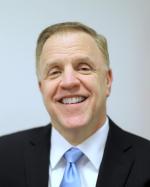 The Democratic primary for the seat currently held by Republican Nan Hayworth is heating up, with the campaign of Rich Becker sending out a scorching email this morning blasting rival Sean Patrick Maloney for garnering only one donation in the redrawn district he hopes to represent.
"They say 'one is the loneliest number,' and Sean Patrick Maloney's first quarter filing pretty much proves that. For a candidate to receive a single solitary donation, just 3/4 of one percent of his total money raised, from the district he's hoping to represent is a clear indication of transparent carpetbagging," the campaign said in a statement. "We're not surprised though; during his entire two-year run against Andrew Cuomo for Attorney General, Sean only managed to raise 2/3 of one percent of his total money from residents of the new 18th district. By comparison, 77.7% of our donations came from within the district."
The campaign says that their statement is in reaction to an email Mr. Maloney sent from his personal email account last night ot Democratic bigwigs in which he touted his campaign fundraising and mocked Mr. Becker for lending himself a substantial sum to bankroll his campaign.
There is some irony in the Becker team's attacks, not just because he has indeed lent himself a substancial amount of money, but because he has trouble with the new district lines as well–after reapportionment, he found himself living just outside the district lines and has been housing hunting in the new district. Mr. Maloney lives outside the district as well, and until the retiring Maurice Hinchey's district was wiped out, was planning on running there.
The Becker email goes on to note that Mr. Maloney has about the same amount on hand to fight in a primary election, and knocks him for what they say were dubious campaign fundraising practices in the past.
"We also asked how much of Sean's money could be spent on the primary election. People who followed the Obama-Clinton race in 2008 know that this can prove to be crucial. An initial canvass of Sean's filing reveals that he actually only has $212,712.75 available for use in this primary, virtually indistinguishable from our own total of $201,351.02 available for the primary. That does not even get into the fact that Sean did not report the cost of: printing his petitions; paying canvassers to carry them; putting a full poll in the field last month; paying SKD Knickerbocker; paying any of his staff, including his new campaign manager; paying any of his other consultants, such as a finance consultant; or paying for rent, phones, or office equipment."
"It is also more than a little disingenuous for Sean to claim he's been running for only two months when in fact he seems to have been seeking elected office for the better part of the last decade. During his tenure at the Spitzer administration, Sean was sharply criticized by the NY Times and good government groups for exploiting loopholes in state ethics and campaign finance rules to effectively continue running a campaign while working on the Second Floor. His behavior was blasted by the League of Women Voters, Common Cause, and NYPIRG as a 'flagrant misuse of campaign dollars,' an example of how Albany insiders 'who make the rules benefit from them,' and 'disturbing, and some would say heartbreaking,' and he was admonished that 'at some point, you have to start setting an example.'"
"The choice in this primary could not be more clear. Dr. Becker is a grassroots leader, environmental activist, local elected official, and successful small businessman – while Sean is a district-shopping, ethically compromised insider without any clear connection to the Hudson Valley. We're confident the voters are going to back the only Democrat with the right combination of experience, middle class values, strong community ties, local support, and resources to take back this district."