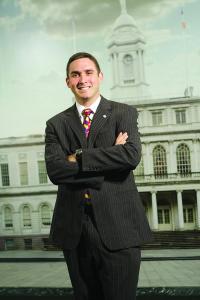 Attorney Benjamin Kallos might be off and running with his Upper East Side City Council campaign, but he had nothing but kind words to describe one of his top potential opponents, Assemblyman Micah Kellner. Mr. Kellner has not made any formal decision, but a source close to him previously told The Politicker he was "inching" towards a run.
"I think he's been doing a good job," Mr. Kallos said when asked of Mr. Kellner's record in the Assembly at his redistricting-themed fundraiser earlier this week. "Assemblyman Kellner does represent me, I actually live in the 65th Assembly District."
Mr. Kallos proceeded to reference his work with Mr. Kellner when he was chief of staff to a neighboring district's Assemblyman, as well as recently on his own passion of data transparency legislation.
"When I was Chief of Staff to Assemblyman Jonathan Bing I had the privilege of working with him a lot of key issues in the district," he, proceeding to tick off a range of local issues. "I've always had a comfortable working relationship with his office. When Gale Brewer introduced the open data bill in the City Council I was actually happy to work with him and his office in introducing an open data bill in the state."
"I've with worked closely with his office," he added. "I'm really happy with the legislation he's introduced."
Also in the race, which won't take place until 2013, are attorney Nico Minerva and disco-dancing adjunct professor Hill Krishnan. The seat is open as the current occupant, Councilwoman Jessica Lappin, is expected to run for Manhattan Borough President.