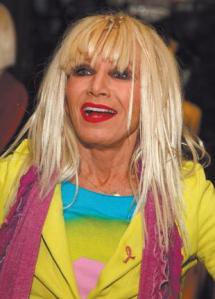 Almost a week after we learned designer Betsey Johnson would be featured in a new reality show, Betsey And Lulu, comes the announcement that the spritely 69-year-old's fashion line has filed for bankruptcy. As a result, over 300 Betsey Johnson employees will probably lose their jobs. To top that off, most of Betsey Johnson's 63 stores will close.
All is not lost, however. Ms. Johnson still has the eponymous show in the works (as far as we know) and according to Forbes, this certainly isn't the end of the brand name:
Steve Madden, who has owned the brand's intellectual property rights since 2010, said in an email that the group will continue to support the Betsey Johnson brand and ensure existing orders will be produced and ship on time. Betsey Johnson clothing will still be sold at Saks Fifth Avenue, Bloomingdales and Nordstrom.
Brand Chief Financial Officer Jonathan Friedman issued a statement regarding the action that indicated the move is intended to "address Betsey Johnson LLC's cash flow problems."