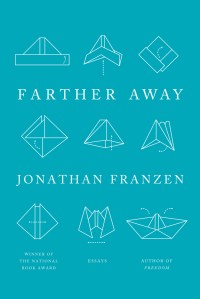 In his 2008 essay "The Chinese Puffin," reprinted in his second essay collection, Farther Away (Farrar, Straus and Giroux, 336 pages, $26.00), Jonathan Franzen contemplates the apparently limitless carpet of lights unfurling from the center of Shanghai, and asks, "Does anybody want to get into some really unprecedentedly deep shit?" In a rare moment in these essays, he answers "yes," but is unwilling to drag us there. In fact, steering clear of the really deep shit—certain kinds of hard truths—is Mr. Franzen's m.o. throughout this collection.
Make no mistake, Mr. Franzen's writing is nothing short of immaculate—as meticulously constructed as it is sterile. Throughout the 21 pieces gathered here, the bulk of which first appeared in The New Yorker, he demonstrates that as a prose stylist, he bears comparison to the most painstaking of entomologists, carefully pinning the wings of a butterfly to best reveal its beauty in a certain light and at a very specific angle. What results is the brilliant, luminous, platonic ideal of the subject; only when removed from its hermetically sealed environment does it reveals it flaws.
In a word, Mr. Franzen's methodical prose—with certain exceptions, such as "Hornets," his short reflection on delinquency—can ring a bit lifeless. Still, his new collection takes the reader on a closely guided tour of his private concerns, most of which, it must be said, are fascinating: the miscorrelation between merit and fame, the breakdown of a marriage, birds, the waning relevance of the novel in popular culture. Perhaps not surprisingly for a novelist, among his abiding concerns are other novelists. At one point, he performs an armchair analysis of recent "literary minded" writers by comparing the number of Amazon reviews of their work with those of the canonical 20th-century luminaries: Woolf, Pynchon and Joyce.
In the several actual book reviews sprinkled throughout the collection, Mr. Franzen tends to focus on, and champion, somewhat obscure writers—Christina Stead, James Purdy, Maj Sjöwall, Per Wahlöö—rather than his fellow best-sellers. Sometimes his cheerleading can be a bit grating, and almost arrogant ("Read Munro! Read Munro!"). Otherwise, in pieces like the lecture "On Autobiographical Fiction," the short tutorial "Comma-Then" and "The End of the Binge," he reflects on his own writing process.
Along the way, he offers some snappy aphorisms, such as "avowing sincerity is more or less diagnostic of insincerity." More often than not, however, such witticisms are diluted by length of his essays; this is especially true of the meandering and ultimately unsatisfying "The Chinese Puffin," an exploration of who really makes products that bear the label "made in China." It is in pieces like this that Mr. Franzen's favored approach—part personal essay and part journalism—comes up short.
Better by far is the extended, purely personal reflection in the title essay. "Farther Away" follows Mr. Franzen, an avid birdwatcher, to the small South American island of Masafuera, where he travels in pursuit not only of a rare bird, but also of solitude. Against the backdrop of this exotic setting, he meanders through a number of interconnected topics: conservation, the evolution of the novel, the loneliness of adult life and in particular his mourning of his onetime literary rival and close friend, David Foster Wallace. His relationship with Wallace is a central preoccupation of the new collection; in addition to the passages in "Farther Away," he has also included the eulogy he delivered after Wallace's suicide in 2008. The three-year gap between the two ruminations allows for the familiar sentiments to fill out, age and settle into a deeper color. The complex portrait of Wallace that emerges penetrates the clichés of tortured artist or self-alienating savant that appeared in other writings on him in the wake of his death.
A comparison of the two men as nonfiction writers is instructive: Wallace, a novelist, will likely be remembered as a peerless essayist; Mr. Franzen, also a novelist, so far seems likely to be remembered as a novelist. A joy of Mr. Franzen's novels, particularly evident in 2010's Freedom, is his ability to create a vast landscape replete with fully rendered characters and absorbing subplots that could each sustain an entire novel. In his essays, Mr. Franzen's observations can seem picayune, even curmudgeonly. In "I Just Called to Say I Love You," for instance, he lambasts the often heard "I love you" spoken on cell phones as the "sudden, mysterious, disastrous sentimentalization of American public discourse."
The essay on Frank Widekinde's Spring Awakening, sensibly titled "Authentic but Horrible," balances nuanced literary criticism with accessibility. It was originally published in 2007 as the forward to Mr. Franzen's translation of the play, and in it he acknowledges the best of previous translations as "less inadequate"; this act of pulling the wool over the reader's eyes is unappreciated, even if Mr. Franzen produced his translation far before the 2006 revival of the play that prompted his new criticism.
But for the most part in his essays, Mr. Franzen rewards the reader with extended meditations on common phenomena we might otherwise consider unremarkable. His irritating one-man crusade to include the description "late-model" in the American vernacular aside, the observations Mr. Franzen makes regarding subjects like cell phone etiquette, the ever-evolving face of modern love and technology are trenchant.
With Farther Away, Mr. Franzen demonstrates his ability to dissect the kinds of quotidian concerns that so often evade scrutiny. He gets into the trenches: What do our personal interactions with strangers say about the economics of time? Will the "like" feature on Facebook prefigure the end of "love" as a viable emotion? It may be eight years before he releases his next shimmering novel; in the meantime Mr. Franzen seems intent on keeping the conversation going. Farther Away at least achieves that.
editorial@observer.com