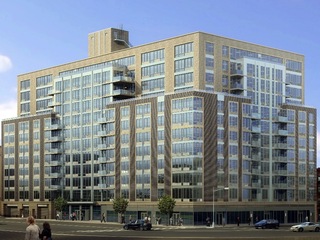 So we've got a 7-Eleven on St. Marks and now some big box stores for West Chelsea. One might be moving to the corner of 8th Avenue and 26th Street.
Artimus Development contacted the Winick Realty Group about marketing a massive space at 320 Eighth Avenue, DNAInfo reported:
The new 12-story building offers the potential tenant a whopping 18,000 square feet of ground floor space, a loading dock for trucks, 200 feet of wraparound frontage, and an 18,000 square foot basement.
Hello big box! About 200 apartments will sit over the store and will be ready for occupancy at the end of the year.
"The ideal tenant will target the neighborhood's growing residential and student population coming from the Fashion Institute of Technology to the north and the School of Visual Arts to the south," Alex Hill, associate director at Winick, told DNAInfo.
The listing struck a chord with a local neighborhood preservation group, Save Chelsea. Lesley Doyel of the group told DNAInfo, "[…] we also see Winick's listing for 320 Eighth Ave. as an opportunity to stress how we think the city needs to do much more to encourage and support small, independent and affordable retailers in our neighborhood."
Oh, Walmart! There's an opening in Manhattan!
mewing@observer.com