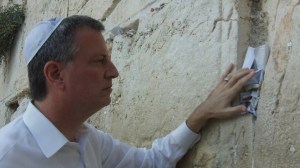 It seems The Times of Israel is interested in New York's mayoral candidates recently. After profiling newspaper publisher Tom Allon's trip to the Holy Land, the publication interviewed Public Advocate Bill de Blasio about his recent efforts to get Nissan (which is on track to produce the city's next taxi fleet) to dump its operations in Iran.
Having boosted Israel credentials could help Mr. de Blasio's future mayoral aspirations as well, as the foreign-policy minded Orthodox Jewish community is likely to play a big role in the 2013 Democratic primary. Indeed, in his interview, Mr. de Blasio stressed the increased role New York's mayor could play in effecting change abroad.
"I'm sure, of course, that he shares a lot of the views that I have about Iran, but he also tends to not want to use the economic strength of government to achieve these important goals," Mr. de Blasio said of Mr. Bloomberg. "And I think the mayor is out of touch with what people in New York City and in the US would feel on this one. Which is, here's a state sponsor of terrorism, and they cannot benefit from doing business as usual. It's not acceptable."
Despite the widespread assumption that he's seeking higher office, Mr. de Blasio hasn't announced his intentions yet and said we'll have to wait until 2013 to find out for sure.
"I've been asked that question about a thousand times and what I say is that I don't believe it's time to talk about it until we get through the current presidential election," he explained during the interview. "After that, it will be time to talk about the mayoral election of 2013."