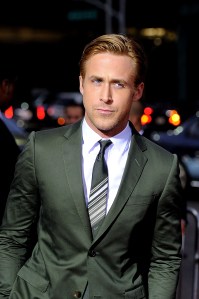 Laurie Penny, a British writer for "the New Statesmen, Independent, Guardian, Al-Jazeera, The Nation and others" (according to her Twitter), just had the dreamiest brush with death ever. Ryan Gosling, he who breaks up fights in the middle of the street, stopped Ms. Penny from walking directly into a speeding taxi in New York today.

This literally just happened:
The reason Ms. Penny was almost hit wasn't because, like every other New Yorker, she was too busy playing Angry Birds on her iPhone to notice traffic. No,
she's from London
, where cars go in opposite directions. And was wearing a pink wig (which obviously enrages American taxi drivers):
And it was definitely Ryan Gosling, not some lookalike,
as confirmed by a woman
who wasn't lucky enough to almost die today.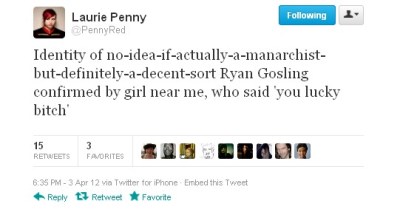 More on this as it develops. As of the time of this posting, Mr. Gosling's publicists have not responded to our request for comment.