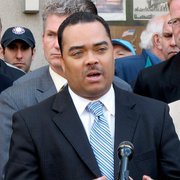 Usually, prominent elected officials tend to form a defensive wall whenever an incumbent is challenged in a primary, but that's not quite the case in Brooklyn. For example, Assemblyman Hakeem Jeffries bid to unseat Rep. Ed Towns was met with the support of a variety of politicians in the area. Somewhat similarly, Councilman Erik Dilan, whose candidacy is backed by Brooklyn Democratic boss Vito Lopez, appears to have some support among his fellow elected officials as he seeks to unseat Congresswoman Nydia Velázquez.
Among his contributors are a number of close allies of Mr. Lopez, including State Senator Martin Dilan, Assemblyman Rafael Espinal, Councilman Steve Levin, and Councilman Domenic Recchia. Notably, Senate Minority Leader John Sampson also waded into the race and gave Mr. Dilan $1,750 from his personal checkbook.
(Mr. Sampson also contributed to State Senator Adriano Espaillat's campaign against Congressman Charlie Rangel, but this could be attributed to them being colleagues in the same chamber.)
Despite this support and Ms. Velázquez's own lagging fundraising pace, Mr. Dilan has significantly less cash on hand. The Congresswoman has built up reserves over previous election cycles when she wasn't aggressively challenged and has over $700,000 in her bank account, while Mr. Dilan has around $130,000.
There are two other candidates in the race as well: former district leader George Martinez and economist Dan O'Connor. Neither has reported their fundraising totals online, but Mr. O'Connor did announce raising $30,000 at the start of March, well before this quarter's deadline.