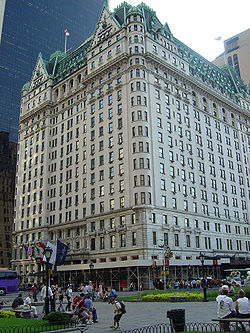 The Plaza has had more international intrigue than a Bond film, so why not a bit more!
The brother of Kazakhstan's president, Bolat Nazarbayev filed charges against Maira and Daniyar Nazarbayeva, his ex-wife and her son, at the Manhattan Supreme Court to be returned his $20 million dollar plaza condo, plus money damages, the Post reported.
The suit trails back to 2008 when Mr. Nazarbayev was looking to purchase a New York pad and settled on a $20 million condo on the 18th floor of the Plaza. He then gave his wife's son, Daniyar, power of attorney over him so he didn't have to personally travel to the United States to sign on the dotted line.
The apartment was placed in the elder Mr. Nazarbayev's name, but also in the name of the missus without his authority, allowing the son to conspire with his mom, use his power of attorney, and sell the apartment to himself for zero dollars without Mr. Nazarbayev knowing or consenting.
It wasn't until after the divorce that Mr. Nazarbayev realized that he married an "international fugitive currently wanted by Interpol," the Post noted. The ex-wife "had been declared by Kazakhstani authorities to be wanted for various crimes, including kidnapping, use of threats of physical harm to extract funds from a business associate, and using criminal threats to force another person to transfer real property to the name of a family associate."
So much for knowing your wife!
mewing@observer.com