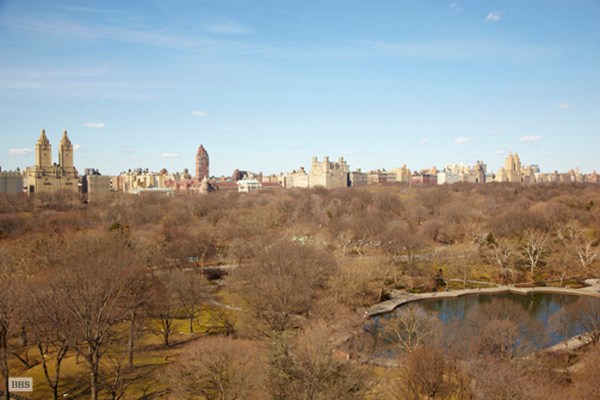 Despite its many reported anachronisms, the penthouse of reclusive heiress Huguette Clark did not stay on the market for long. Unit 12w of 907 Fifth Avenue has entered into contract in less than a month, according to the Brown Harris Stevens listing held by Mary Rutherfurd and Leslie Coleman.
The list price for the massive apartment that stretches the full length of Fifth Avenue and faces the park was $24 million, much less than many similar listings. The likely reason was that despite Clark's careful maintenance of her many properties, the place definitely needed some work. Msnbc.com, a news website in Redmond, Wash. that is not affiliated with the TV network, first broke news of the deal Monday evening.
"While one needs to envision the apartment brought up to date for today's lifestyle, the bones are here for a unique and fabulous residence," the brokers wrote in the listing, one that seemed, in its evasions and tantalizing tidbits of information, to stoke even more interest in the residence than there had been before. If that was even possible.
"It was like going back in time 100 years," one potential buyer told The Times. "There was oak paneling and original wood floors, and in the kitchen there were appliances from 1915. It was a throwback."
Clark, a copper heiress and doll-lover who died in May 2011 at the age of 104, hadn't lived in the building for decades. Rather, she took up residence in a hospital, believing she needed treatment for her many mysterious and imagined ailments.
The listings for 12W described ornate moldings done in the style of Louis XVI and long-gone architects and designers who helped Clark style her home when she purchased it in the 1920s with her mother. And like the listings for the other two apartments owned by the heiress—8W and 8E—the only photographs were of the park view and the building's exterior. (The listing for 8W begins with "Butterfield 8—the exchange number found on the old dial telephone—sets the tone for what this apartment represents." Tell us more!)
The apartments are being sold by the New York County public administrator, who is managing the estate. Clark had no children and left behind a fortune of some $400 million which will likely become the center of a legal battle given accusations that her old attorney and accountant may have mishandled her fortune. Her distant relatives have sued.
kvelsey@observer.com