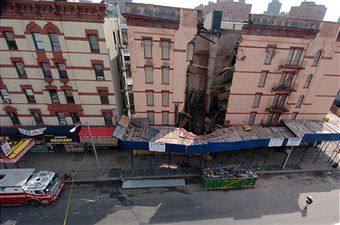 Martha Brown has worked in Harlem for more than three decades and has lived in the neighborhood for even longer. Over the last 15 years, she said she has seen a tremendous amount of change come to the area, some of which she characterized using that word that catches in the throats of so many New Yorkers: gentrification.
"People that were here, they're not going to be able to stay," she said. "They're not going to be able to afford it."
While developers of all stripes, from the institutional to the entrepreneurial, continue to beset Harlem with their developments, on Tuesday night, a group of them attempted to assuage the community's concerns at a townhall meeting hosted by the Greater Harlem Chamber of Commerce. Change will not stop coming to the alternately famous and infamous New York neighborhood anytime soon.
But the presenters from five separate projects tried to convince the crowd of one things: these changes were going to include them. Even if those in attendance might never occupy one of these projects, they might at least hope to work at or otherwise benefit from one of them.
"Harlem is a village," said Lloyd Williams, who oversaw much of the meeting as president and CEO of the chamber. "And many of us who grew up in this village together are concerned that we keep communicating like a village."
Williams started things off by having everyone in the crowd stand up to introduce themselves and their titles (many just opted to say "Harlem resident," but one attendee used the moment as an opportunity to say that she recently received a thank-you note from Michelle Obama). Some people seemed more interested in using the meeting as a chance to catch up with friends than to learn about new developments in Harlem, and most were not shy about voicing their concerns over whether new projects coming to the community would actually benefit the community.
Still, a familial air persisted during a town hall that ran more than two hours, contrary to the often contentious nature of development meetings. There was a genuine interest in where many of these neighborhood-shaping projects stood.
Attendees asked about how upcoming construction and real estate developments could help expand ownership and entrepreneurial opportunities for Harlem residents. They wanted to know whether or not agencies would be coming to properly publicize, train and hire Harlemites for the highly touted new job openings. They questioned what the precise definition of "affordable housing" was, and they wondered what the consequences would be for contractors who didn't hire the proper amount of minority workers.
"When you talk about 35 percent minority workers and strongly worded language in the contracts, do you have any way of penalizing contractors who do not reach that minimal 35 percent?" one attendee asked, to the applause of the crowd.
Kenneth Knuckles, president of the Upper Manhattan Empowerment Zone, responded by saying his organization would monitor projects and used "the power of the purse" to address noncompliance.
Spokespeople for the five major developments attempted to allay these concerns by publicizing the amount of community residents they had already hired or planned to hire. Roland Laird, CEO of My Image Studios said that the project would employ between 70 and 75 people and that his goal was "to employ at least 70 percent from this community." The 20,000-square-foot entertainment complex devoted to African and Hispanic culture will be located inside the Kalahari condominiums, which opened in 2008 at 40 West 116th Street.
Denise Soares, executive director of Harlem Hospital Center, took a similar approach when speaking about the expansion of the hospital. "We've encouraged, and forced, contractors working on the project to hire community residents," she said. "To date, there have been 217 community residents who have been employed." She did not mention how many total employees there were.
William Parish Jr., president of the construction management firm NobleStrategy, described it as his company's role to ensure that businesses from Harlem participated in putting together the Mother Hale Transportation Depot at 146th Street, a project of the MTA. Steve Williams, discussing his real estate company's plans to redevelop the Victoria Theater, said that they would make sure to advertise in The Amsterdam News. And when La-Verna Fountain from Columbia University began talking about the college's plan to expand into West Harlem, she twice identified her coworkers who Harlem residents would need to get in touch with for employment opportunities.
"There is so much happening in Harlem," said Mr. Williams, the chamber president. "We could have selected maybe 30 different development projects, but we have sought, just out of the interest of time, to limit it to five."
If those remarks—and history—are any indication, change will likely continue coming to the historic community long after the aforementioned developments are completed. But if the village's current residents are the ones helping to build these them, at least a piece of Harlem's past might hope to hang on.
realestate@observer.com