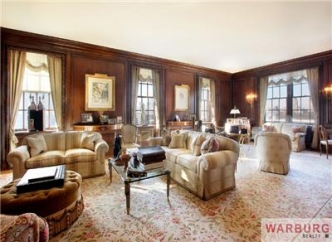 Do you ever grow tired of looking out your window and seeing the same old sweeping views of the city? Apparently, Zachary Jared Schreiber and his wife Lori did. The couple is ditching their sprawling 33rd-floor apartment at 15 Central Park West for a sprawling 9th-floor apartment at 1030 Fifth Avenue.
Both apartments have views of the park, of course, but one is from the west side and the other is from the east, and the new one has 55-feet of Central Park footage, which we imagine would be a very refreshing shift. Plus those sunsets.
Or maybe Mr. Schreiber, the managing director at Duquense Capital Management just got tired of all the riffraff at 15CPW and was looking for something more exclusive?
Well, the couple most likely found it at the white-glove co-op, built in 1925 by J.E.R. Carpenter. They bought the full-floor, 6-bedroom apartment for $31.5 million from Cellular Communications co-founder George S. Blumenthal, according to city records.

The "baronial," sunlit apartment was listed with Warburg brokers Bonnie Chajet and Ronnie Lane for $35 million. Mr. Blumenthal has owned the co-op since 1995, when he bought it for a pittance—$5.7 million—according to the records of the Olshan Luxury Market report.
The six-bedroom apartment also features a gym, an eat-in kitchen, a library, powder room and wood-burning fireplace. There are too many en-suite baths and oversized closets to mention.
Will the Schreibers' be paying for the purchase of their new home with the sale of their old one?
Well, although the couple had their 15 CPW pad listed for a suspiciously-similar $31.5 million until last summer, it's been off-the-market since then.  The Schreibers bought it for only $11 million in 2005, but then it does fabulous sounding details like a "rich striped tiger maple paneled library" and prices have been going up at 15 CPW of late. Fancy a good trade?
kvelsey@observer.com