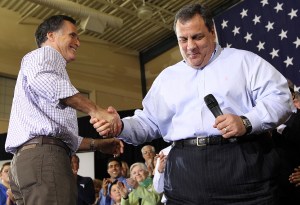 New Jersey Governor Chris Christie is taking his show on the road and traveling to Wisconsin to stump for that state's embattled governor, Scott Walker, who's facing a recall election over his decision to eliminate collective bargaining for public employees. Mr. Christie's trip to Wisconsin will kick off a summer tour of conservative events that will take him to Washington D.C., Kentucky and Chicago where he's appearing at the regional conference of the Conservative Political Action Committee alongside Herman Cain, Michele Bachmann and Bobby Jindal.
Mr. Christie previously campaigned for Mr. Walker in 2010 citing his own battle with public employees' unions in New Jersey. However, since then, the Star Ledger points out Mr. Christie has distanced himself from Mr. Walker's push to abolish collective bargaining:
"At a town hall meeting in Hillborough in March 2011, Christie blamed 'liberals in the media' for pointing to similarities in the way New Jersey and Wisconsin tackled public-sector unions, and said contracts should be negotiated through collective bargaining," Star Ledger reporter Jenna Portnoy wrote in a writeup of Mr. Christie's trip to Wisconsin.
Mr. Christie is regularly named as a potential vice presidential pick for Mitt Romney, whom he has also campaigned for during this election. However, his political strategist, Mike DuHaime told the Star Ledger "it's pure coincidence that Christie's schedule is full of events that could boost his conservative credentials" as Mr. Romney's campaign heats up.