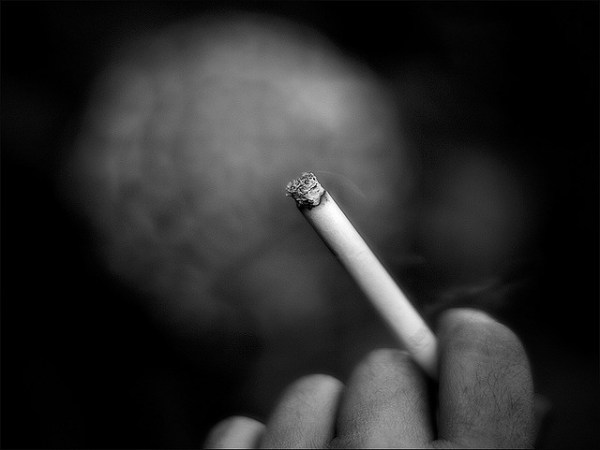 So much for a man's home being his castle and all that. Mayor Michael Bloomberg is now going after the last refuge of the city's beleaguered smokers—their apartments.
Mayor Bloomberg is strongly advocating for a new law that would require buildings to disclose smoking policies and procedures to potential tenants and renters. The Wall Street Journal was the first to break the bad news.
"Smoking kills and people have the right to know if they are going to be exposed to secondhand smoke," Mayor Bloomberg said in a statement. "We pursued this proposal in response to complaints from New Yorkers. It won't ban smoking in residential buildings, only ensure that New Yorkers can choose a smoke-free place to live."
Of course, the Mayor would never dream of instituting a smoking ban, he assured the city's nicotine-addicted residents. It's just that people should be able to make an informed decision about whether they wanted to live in the kind of death trap that allows smoking in  apartments, on balconies or rooftops, in courtyards or within 15 feet of the building's entrances. That's all.
"We protect people from hurting themselves if they're trying to jump off a bridge, we restrain them," Mr. Bloomberg told the New York Times. "Should you really do it with smoking? We're not going to do it with smoking, but we—this is purely an informational thing."
Even before the announcement, REBNY's Residential Management Council released a guide of best practices for managing agents whose buildings are considering implementing no-smoking policies. It wasn't advocating for or against, REBNY explained, just anticipating that "the limitation or banning of smoking within residential units may be more prevalent in the residential market in the future."
Some buildings, like the Ariel West tower in Queens, already ban smoking.
Naturally, the proposal has ignited outrage in the smoking community, which is hard-pressed to find a place to light up the cigarettes they can barely afford anyway. In the last decade, they've been banned from bars and restaurants, parks, beaches and public plazas.
Adding insult to injury, the city is also cracking down on smoking scofflaws in parks, and has issued 108 tickets for violations so far this year, more than in all of 2011.
"This is their blueprint," Audrey Silk, a smoker and founder of Citizens Lobbying Against Smoker Harassment, told Crain's. "Acclimate the public to an idea so when they do come through with the force of law, the backlash is muted."
The Bloomberg administration helpfully points out that this new law is similar to disclosure policies that already exist about lead paint or bedbugs.
Ouch!
kvelsey@observer.com