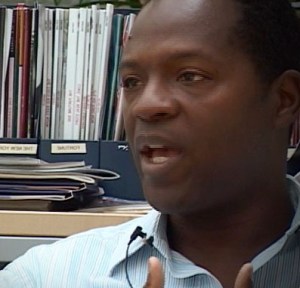 Former DNC political director Clyde Williams faced two challenges to the 6,000 petition signatures he obtained to get on the ballot in the congressional race for Upper Manhattan's 13th district that he blamed on "associates" of the incumbent, Charlie Rangel. Those objections have expired and Mr. Williams said he's going to be on the ballot without issue.
"Thousands of residents who signed my petitions participated in the electoral process and now their voices will be heard. I will be on the ballot on June 26," Mr. Williams told The Politicker. "We now enter a new phase of the race and I look forward to continuing to engage voters and share ideas for the future of this community."
Last week, Mr. Williams posted a note on Facebook decrying the challenges to his petitions filed by Desiree Harris and Jerry Washington as "associates of Charlie Rangel" attempting "to block my access to the ballot." Ms. Harris and Mr. Washington also filed challenges to petitions obtained by two of the other candidates in the race, Craig Schley and Joyce Johnson.
"Some might say a petition challenge is the sincerest form of flattery. But in fact what my opponents are challenging is the right of the people to be heard – trying to silence the voices of change," Mr. Williams wrote.
Ms. Harris lives in the same apartment building as Mr. Rangel, whose campaign declined to comment on the issue last week.
Petition objections require a contact person and both Mr. Washington and Mr. Harris listed a man named Arthur Greig on their challenges. Mr. Greig was the Co-Law Chair of the New York County Democratic Party while Mr. Rangel's longtime ally, Assemblyman Herman "Denny" Farrell was chairman. He also worked a special counsel to the chairman of the Assembly Ways and Means Committee in the late 1998. Mr. Farrell has been chair of that committee since 1994. Mr. Greig also served as counsel to another ally of Mr. Rangel's, David Paterson while Mr. Paterson was minority leader in the State Senate.