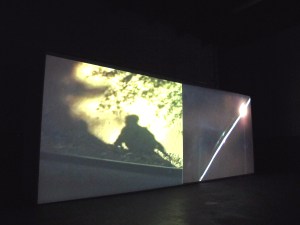 Has there ever been a stranger time for young artists? Their work may not be selling at quite the clip of 2007, we're told, but their opportunities are greater than ever. The risks they face are too. New galleries are opening regularly, and the established ones, sensing competition, are expanding. These art dealers need artists, and they have plenty to offer them.
The Journal Gallery, on North 1st Street in Williamsburg, is one of the many galleries ramping up. The exhibition venue of the luxe magazine The Journal, founded by Michael Nevin, has long been a sterling project space, a purveyor of handsome, modestly-sized shows by artists established elsewhere—Joe Bradley, Michael Williams, Rita Ackermann and the like–as well as a number of unknown artists well before their prime. Now it represents two superb young artists: Daniel Turner and Colin Snapp, who sometimes collaborate on a project called Jules Marquis. More artists may be on the way.
On Saturday, Mr. Snapp, 29, will unveil a quietly impressive video installation at a new Journal Gallery space on North 1st, a bit closer to the East River. It's in a former warehouse, with high ceilings and 3,500 square feet for artists to work with. The artist has lit it with a two-channel, 10-minute video spliced together from footage shot during a month-long trip to Morocco, called Leica Toll, and nothing more.
It was nearly pitch-black inside when we visited on a sunny Wednesday morning, along with Mr. Snapp, Mr. Nevin and the gallery's Vita Zaman, formerly of the Pace Gallery in New York and IBID in London, and it took some time for our eyes to adjust. As they did, deep, rich bells peeled out from speakers, sometimes gently, sometimes with a loud clang. Mr. Snapp recorded them in Morocco and then slowed them down. They echo through the empty warehouse and almost seem to make it vibrate.
Scenes from Morocco's roads appear on screen, which Mr. Snapp shot them through the window of taxis while riding along them. Huge tour buses slide slowly, silently past. A woman, shot in a rearview mirror, shields herself from the camera with her hand. There are expansive, empty desert landscapes. It never quite adheres to a documentary format—the clips are too quick, too disjointed—but instead balances between narration and raw imagery. The viewer becomes an intimate tourist in Mr. Snapp's world.
Over at the original Journal Gallery space, just across Bedford Avenue, Mr. Snapp has another show on view, through April 29. This one is called "Continental Drift," and it is almost as spare as his video installation—a few brightly lit snapshots from Morocco made on a disposable camera (sand rendered his other camera unusable) and a photo of that woman's hand, enlarged to an unsettling size. He projected the video onto the wall of his studio and took a photo. Skip the video installation down the street, and it will appear almost abstract, certainly illegible.
In the smaller gallery's office on Wednesday, Ms. Zaman was sitting with Journal Gallery co-founder Julia Dippelhofer. Why the new space? "These two amazing artists," Ms. Zaman answered, referring to Messrs. Snapp and Turner. "Their work is so major that it requires the space." Mr. Nevin had his eye on the space for a while. The gallery will renovate it over the summer and make a grand debut in September with a solo show by Mr. Turner.
Such large, Chelsea-sized spaces are still rare in Brooklyn, but Ms. Dippelhofer noted that there are a number of warehouses, some empty, in the area and all along North 1st. "This street just seems like it could be perfect," she said. "A lot of things are happening. You can really feel it."
Update, 5:30 p.m.: An earlier version of this article incorrectly attributed the closing quotation. It was spoken by Julia Dippelhofer. In addition, the article has been clarified to note that the gallery is expanding, not moving fully into the new space.