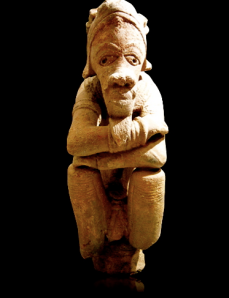 During a shoot, magazine photographers dropped a 2,600-year-old terracotta statue, smashing the $300,000 piece of Nigerian Nok art for good, according to the collector Corice Arman, who is suing Louise Blouin Media in a New York court, the Courthouse News Service reports.
Ms. Arman says in May, 2011, photographers for Art+Auction, which is published by Louise Blouin Media, moved the ancient Nok sculpture across the room in order to photograph it. The complaint states as follows:
"During the photographers' move of the Nok figure, the Nok figure fell onto the floor and was smashed into a myriad of pieces, cannot be restored and is a total loss."
Ms. Arman and her late husband, the artist known simply as Arman, were renowned collectors known for their lavish dinner parties whose living room, in an old pickle factory along the Hudson, was filled with a variety of artwork including portraits of Arman by Andy Warhol, a package by Christo and a variety of African works including tall Nok terracotta sculptures. In 2011, the Pompidou Center in Paris held a retrospective of Arman's work.
According to Archaeology magazine, Nok sculptures may have been the first complex civilization in West Africa, existing from at least 900 B.C. to about A.D. 200, and their terracotta sculptures are now among the most iconic ancient artifacts from Africa.