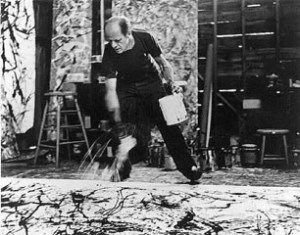 Jackson Pollock would have turned 100 this year and to mark the occasion the Associated Press took a trip out to his studio in East Hampton, N.Y., where it learned that plastic clog manufacturer Crocs has planned a tribute to the artist to be released later this year.
Here's everything shoe-related in the AP story:
And shoe manufacturer Crocs is releasing a Pollock-inspired shoe this June, fashioned after the paint-splashed floor that visitors can still see in the artist's barn.

…

Crocs will introduce a limited edition "Jackson Pollock Crocs Classic" shoe, featuring a replica of a photo taken from the floor of Pollock's studio in mid-June. The Pollock-Krasner House and Study Center will receive a royalty on each pair, which list for $50, said [Director of the Pollock-Krasner House and Study Center Helen] Harrison.
In being immortalized by Crocs, Pollock joins a storied league whose other members include celebrity chef Mario Batali and Batman.