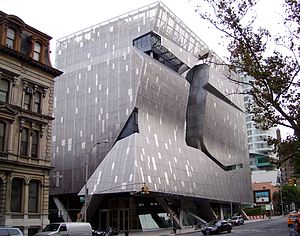 Buzz on the street about New York University's latest purchase turns out to be false!
If big purple already didn't own most of Manhattan, it wasn't much a shock to have learned from Gothamist that the school/corporation bought Cooper Union yesterday morning. A press release from a @cooper.edu rolled int Gothamist's inbox and linked to "letter from the president":
Beginning in academic year 2015, The Cooper Union will lease its recently completed New Academic Building at 41 Cooper Square to NYU-Poly to ensure $20 million in new revenue annually by 2018, putting our institution on a sustainable path for the future while maintaining reverence for its past.

The 41 Cooper Square building has been, for the community, a reminder of past ill-planning and fiduciary neglect. We have, and must continue, to live within the means provided to us in order to preserve Peter Cooper's innovative social mission. We shall not falter in this regard.
The website featured near identical design features to Cooper Union's official website which made it very convincing. It was also in light of Cooper Union's recent cash strap, which mixed with a little NYU-omnipresence, the press release sounded nearly divine. (Full disclosure: The Observer nearly fell for the gag, too, but we were too busy with other stories yesterday to do anything with it.)
Cooper Union was quick to react, of course, and released a statement to Gothamist saying that the information is false. Gothamist apologized and exchanged emails with the person who sent the press release and it turned out to be a junior at Cooper Union addressing dire issues at the school:
As a current Junior and Student Council President in The Cooper Union School of Art, I am guaranteed the incredible gift of a full-tuition scholarship. This protest is meant to help preserve that gift for future generations of students. The question has become: what do we consider more expendable, a 110-year tradition dedicated to the value of tuition-free, merit-based education, or a three year old trophy building that is partially responsible for the Institution's current fiscal turmoil?

[…]

In this context, it is more important than ever to advocate for Cooper Union's ethos– without discrimination based on one's ability to pay, but on the merit of hard work and dedication– that education should be as free as air and water.
How noble!
Though NYU's purchasing power is used to joke about more than cash-poor schools. Just two years ago, NYU's newspaper ran an April Fool's prank article about the school's purchase of Columbia University. There's also word on the street that NYU bought Polytechnic University across the river back in 2008, but those details remain indiscernible…
mewing@observer.comG