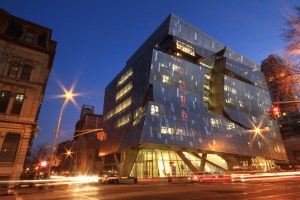 Responding to Cooper Union President Jamshed Bharucha's announcement yesterday that the school will begin charging tuition for graduate students in September, 2013, hoping to close its budget gaps, some students at the tuition-free school are planning to walk out of class today at noon and carry the protest to Union Square at 4 p.m.
"There is a financial problem at the school," Rachel Appel, one of the students organizing the protest, told Gallerist this morning by phone. "We don't deny it. We just believe there are other solutions."
Ms. Appel noted that various groups had been meeting to propose solutions and that an alumni group called Friends of Cooper Union is set to release a study of possible solutions to the financial crunch tomorrow. Update, 11:35 p.m.: The student was also critical of the president's decision to release the news to The Times before informing students and faculty. In a statement released to the press early this morning, some of the protesters condemned the president's move:
This announcement came over a month ahead of the June 1st deadline that President Jamshed Bharuhca had previously set for submitting solutions to the financial crisis the school is currently under.
"There were a ton of people making posters last night," Ms. Appel said. "It's going to be a beautiful protest, seeing as we are a school of art."
"We have a number of performances planned," the student added. Asked to provide details, she replied, "I can't tell you. But they will be very photographable."